Advantages and Disadvantages of a Savings Account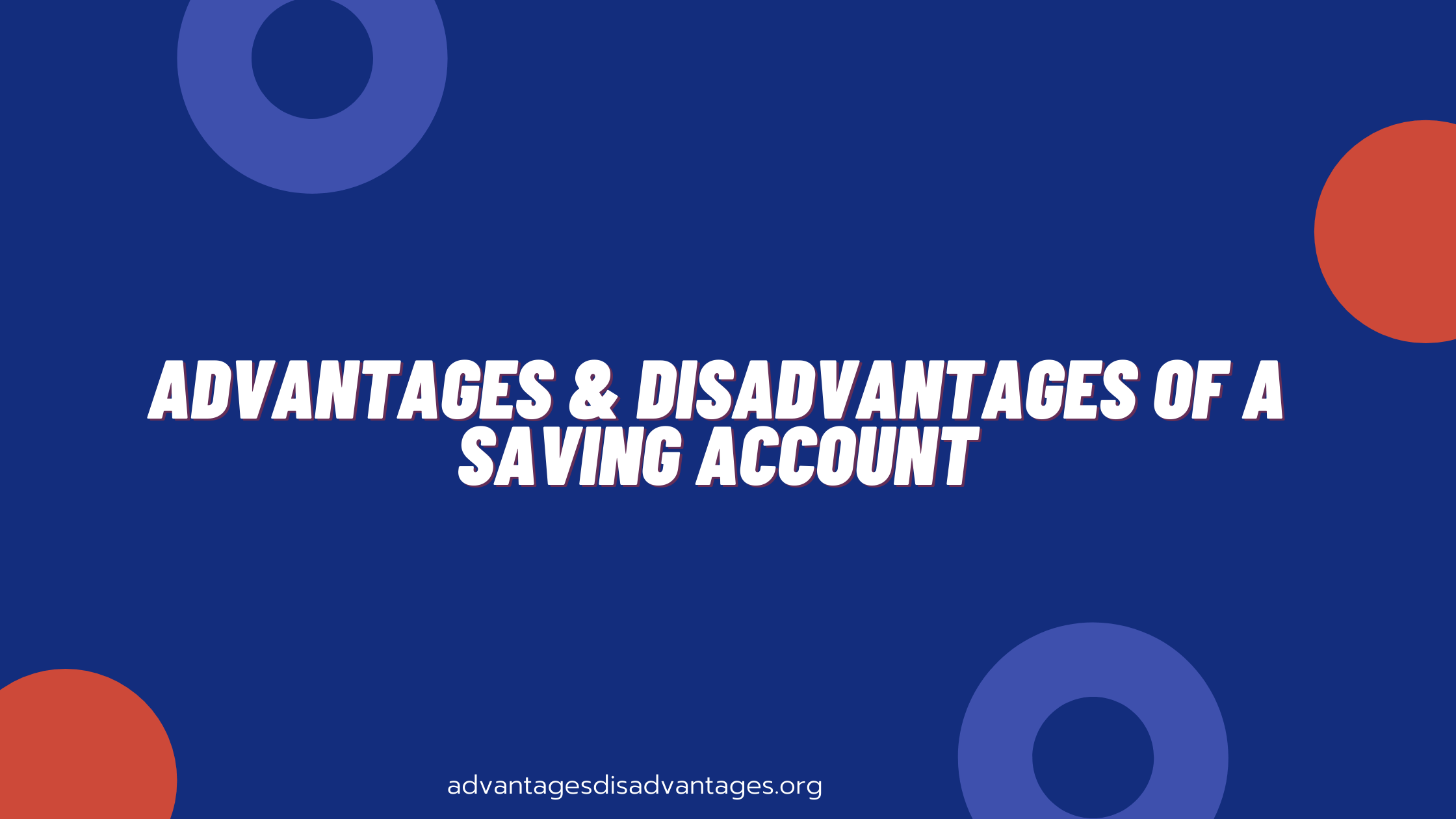 If you're blessed enough to have extra cash for long-term ambitions, first pat yourself on the back! Saving money is so essential and yet so difficult for most people. Next, find out where to make that extra money work for you. Perth Financial Planners explain that nowadays, there are several ways to use, expand, and also save your money, such as good old-fashioned savings accounts.
Savings accounts are normally the first bank account that someone may open to set aside funds for the future and build or preserve wealth. Kids can also open a savings account with a parent in order to build a culture of saving money. Teenagers are opening savings accounts to hold cash gained from home chores or from their first job. A savings account is a great way to store emergency cash for sudden crises or life events. The activation of the savings accounts often marks the start of a relationship between you and a major bank. For example, when you enter a credit union, your membership is determined by your "share" or savings account.
Many individuals ignore savings accounts due to comparatively low long-term interest rates offered relative to other long-term assets. Here we have compiled a list of advantages and disadvantages of a saving account so you can get knowledge before you decide where to go for saving your cash.
Advantages and Disadvantages of a Savings Account
List of Advantages of Saving Account:
Accessibility and availability
Savings accounts are easy to set up and you can  deposit and withdraw money at any time (within national limits) through ATMs or 24-hour online access, unlike long-term savings accounts. Many banks will encourage you to connect your savings account to other accounts, such as a checking account, that will help you prevent expensive overdraw charges. This also encourages you to move funds easily from one account to another.
A bank savings account that is a part of FDIC (Federal Deposit Insurance Corporation) helps to insure up to $250,000 of your money. If you have a credit union that is insured by NCUA benefits, your account can also be insured by up to $250,000.
This is a liquid commodity

 
Savings accounts deal in cash, which means that you don't have to think about selling shares or making other complex moves to reach your money.
The savings accounts accrue interest
While interest rates have been incredibly low since 2007, you can continue to accrue interest on your savings accounts over the period. The rates vary on the bank, but the nationwide rate is about 0.09%, with high-yield interest rates ranging up to 2.05%.
You can launch a lot of savings accounts for just $25. Some banks allow an account to be established for as little as $1, so you can start saving a small sum.
Automated payments of bills
Many financial services allow bills to be charged out of a savings account directly without becoming subject to withdrawal and conversion laws, helping you prevent late fees or missing payments.
You're not tied in for any amount of time, which means that you can transfer bank accounts as much as you want.
List of Disadvantages of Savings Account:
Interest is sometimes measured on a monthly basis, or even yearly, by most banking firms
There are online banks that will increase your interest on a regular basis, but most conventional banks or community banks will only increase your interest on a monthly or yearly basis. This means that the full value of your capital is not always understood, particularly as compared to other financial opportunities.
There are limits on the withdrawal of the savings account
You can simply move funds from one account to another on a daily basis, but in the U.s, there are federal limits to the amount and types of withdrawals you can make per term of reports. This rule is referred to as "Regulation D" which restricts you to no more than 6 deposits or deductions from your deposit or money market account for a calendar month. Checking the accounts is excluded from this. Additional transfers are also subject to "excessive transaction" fees.
Some financial institutions charge a fee on their bank accounts
There may be monthly payments paid to your bank account to be retained. To prevent this drawback, search for fee-free choices for best outcomes at local banks and credit unions.
There are limits on insurance
For the average American, who currently has less than $5,000 in savings, the concept of an insurance limit is not that much of a disadvantage. However, once you have more than $250,000 in net worth, you would need to be aware of where you hold the cash to invest money so that the portfolio is completely secured. Insurance on the savings account is cool, but it has a limit on it.
Easy access to money means more temptation to use it
It's a lot easier to spend your cash because you have a high degree of accessibility. For this purpose, many opt to use other savings items, such as the Deposit Certificate, to escape the temptation to spend them. CDs are a decent choice because they carry cheaper interest rates, but you still risk full access to your funds unless you are able to pay an early withdrawal charge.
You may be expected to carry a minimum amount
If your savings account is a term deposit account, many banks may expect you to have at least $2,500 in it at any particular time. Some entities need a monthly minimum balance in order to hold an account. If your savings drop below this level, high fees will be paid on a monthly basis before you recover the required minimum deposit.
Establish good habits of saving
If you want to start investing, there are three tips to get you started in the right direction:
Track your money or get an online app to help you do that.

If you know that you spend so much on personal expenses or non-requirements, cutting back on those will give you money to a savings account.

Set up an automated investment account.

This feature conveniently moves a tiny amount of your paycheck to your bank account so that you can "pay first" and grow a saving habit.

Joint accounts

.  Consider opening your partner's bank accounts so that you both save together.
Is Savings Account Worth it?
The advantages of the savings account are not how much you save or earn. Instead, you'll have to understand the intent of your account, and the flexibility and access you have. A savings account is perhaps the right option when it comes to the emergency fund. Some experts suggest that you should have at least six months of living costs in your savings account just in  case, but even keeping a few thousand dollars in your account can assist with a pinch. Consider both the advantages and disadvantages of the savings account before making a decision.
Evaluate each key point and you will be able to decide whether starting a savings account or choosing to continue the one you have is the right decision for you or not. For more consultation, comment below, our experts will guide you on the way.