Advantages and Disadvantages of Village Life in Points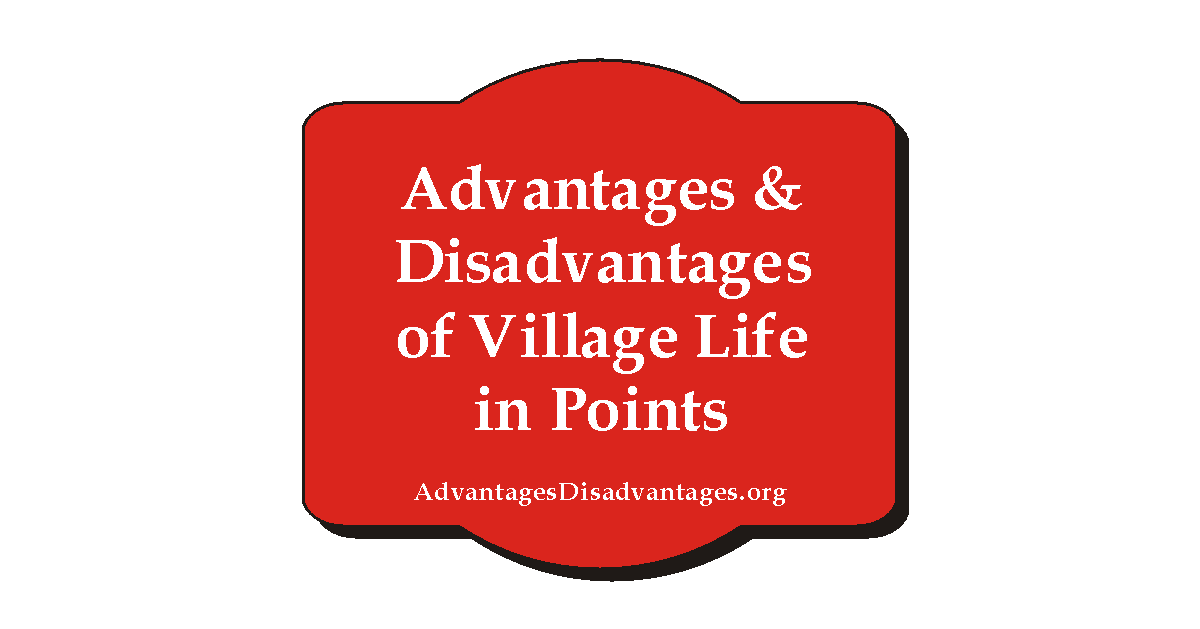 Today in this essay we'll read all the advantages and disadvantages of village life in points. Every country on the earth has some big cities, some small cities, towns, and villages. Some peoples are living in the cities and many of us are enjoying life in small towns. Although there are many pros and cons of village life, before going towards debates we'll read some Advantages of Village Life in Points.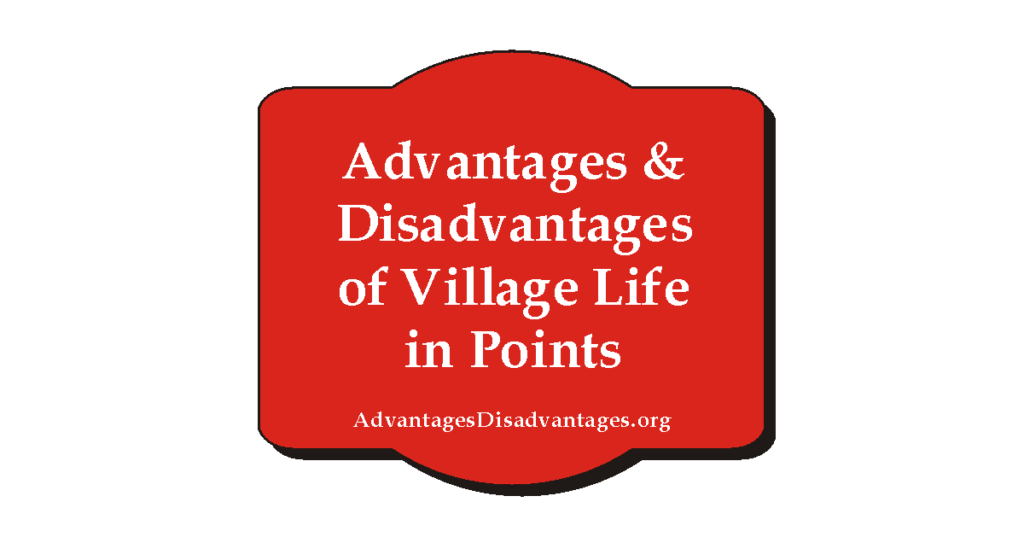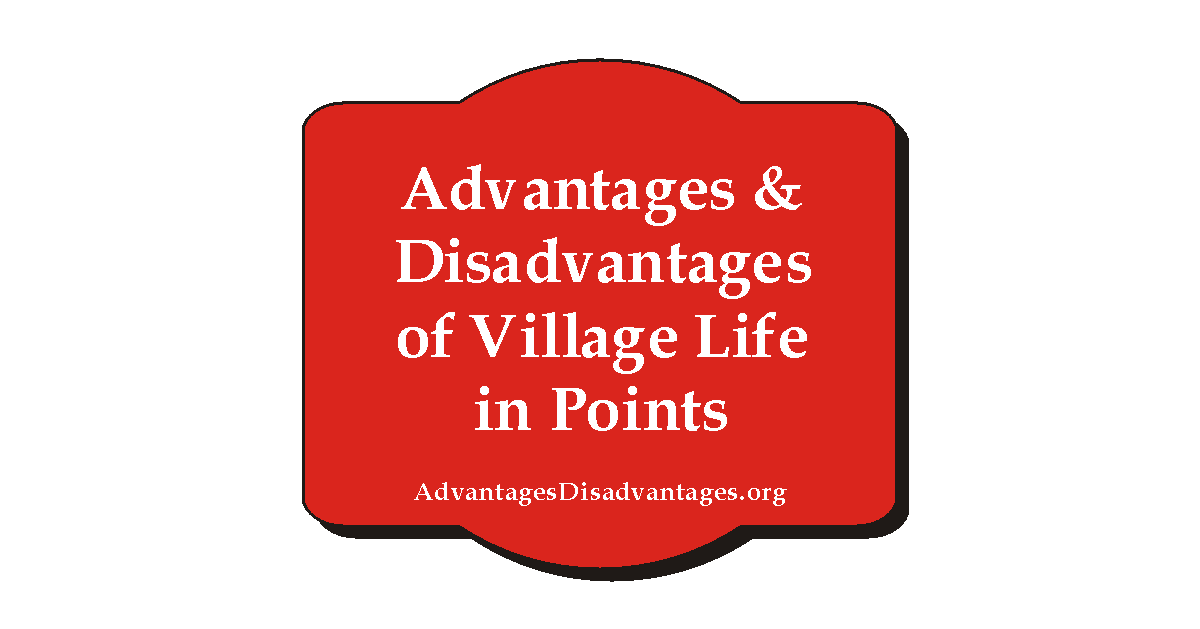 What are the Advantages of Village Life?
The biggest benefit of living in the hamlet is you have fresh vegetables, fresh fruits, and pure milk always.

The area of the village is small in size and there are very few houses, so all the peoples live in community and friendly environments.

The real beauty of living life is in the village because there is everything natural, pure, and beautiful. As compare to city life we have many disadvantages of city life.

Villagers are very helpful people to each other; they help always without any hesitation.

As we mention before the beauty of towns, the environment of the village is pollution-free and fresh always.

You have no worries about time and no tension of duty timing, office, and other works. Almost totally people of village works in their fields.

Life in the village gives more benefits and advantages because of its less cost living standard and simple life. Peoples are very simple and can manage their family system at fewer prices.

Mostly houses in small towns are large in size and more than family means two or three families live in one house. They have a joint family system standard.

The village is always safe from noise pollution and heavy transport.
What are the Disadvantages of Village Life?
The first disadvantage is the kids that they always love to live in the city, they don't like their hamlet.

Can't find the transportation every time, there is very less number of vehicles in the village.

There no big standard schools, colleges, and universities and no academies for advanced learning.

There are no good hospitals, no police station near to you, and no ambulance or fire brigade in case of any emergency.

The big disadvantages of village life are the electricity, there is load shedding always in the village and if the light got short circuit, it takes 2 to 3 days to repair.

We can't find easily the plumber, electrician, mason and many other master persons for work.

There are no opportunities for increasing the business, this is the biggest debate for peoples wants to increase business.

Village people have no proper jobs most of them are working on daily wages.

The last demerit of village life is the people are deprived of banking loan facility and insurance facility and many others like these.

There are no wedding and gathering halls in the village, even people don't remember their birth date. 
Say About Your life
Well, friends that were a little essay on the Advantages and Disadvantages of Village life. I personally want to live in the village because of its simple life and natural environment and natural and fresh food. But if we see on the other have I will lose many advantages, so tell me about yourself either you want to live in the village or not. Say something about this topic to add your point in advantages or in disadvantages. Stay happy and keep visit my other website Cuzy Man

Don't miss your chance to find the perfect nanny – apply today!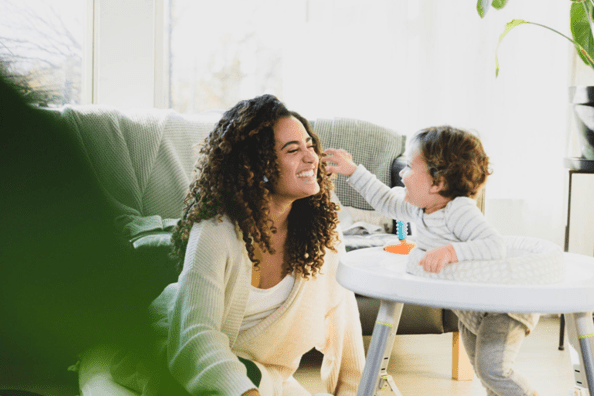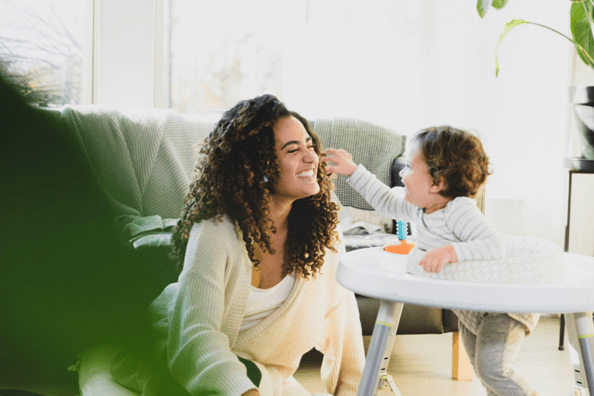 Introduction:
Are you looking for a nanny to help take care of your children while you're away? Lazy Website has the perfect opportunity for you! You only need to post your requirement service on lazy. The customer service team will contact you in 24 hours and will work with you to design a service plan to meet your specific demands. They will find a nanny for you that matches all your requirements. Nannies will be responsible for providing care for children ranging from newborns to teenagers. If this is something that interests you, don't miss your chance to apply today on Lazy Website.
What are some of the qualifications a Nanny should have?
The qualifications a 保姆 should have to vary depending on the geographical location and type of childcare desired. However, some general qualities that are desired in a nanny are exceptional customer service skills, strong organizational abilities, and a love for children. Additionally, many Nannies require certification or training in early childhood development so they can be able to provide the best possible care for infants and toddlers. There are many types of nannies part-time or 鐘點 保姆.
What are the benefits of hiring a Nanny?
Hiring a Nanny can be a great way to have someone care for your children while you are able to take care of other responsibilities. Here are some of the benefits of hiring a Nanny:
-Nannies are available 24/7, which makes them perfect for parents who work night or weekend shifts.
-Nannies typically have more experience with children than parents do, which means they will be better equipped to deal with your child's particular needs.
-Nannies typically get paid per hour worked, so there is no need to worry about paying too much or getting ripped off.
-Nannies are often bilingual, which means they can speak both English and your child's native language. This is particularly helpful if your child has special needs that require attention in both languages.
Important considerations when hiring a nanny
There are many important considerations when hiring a nanny. The first and most important is the age and development of the children in question. A nanny should be able to handle kids of all ages, from newborns up to pre-teens. Next is the qualifications of the nanny. A nanny should have at least 2 years of experience working with kids, preferably in a caregiving capacity. Finally, make sure to interview several potential candidates and ask them specific questions about their experience caring for young children. Nannies are often required to undergo criminal background checks and a thorough references check before being hired, so make sure you are comfortable with who you're hiring before making your decision.
Verdict:
Don't miss your chance to find the perfect nanny through Lazy Website today. With the help of Lazy Website, you're sure to find the perfect fit for your family. So what are you waiting for? Apply today!
Looking for a Northwest Location to Retire? Check Out These Spots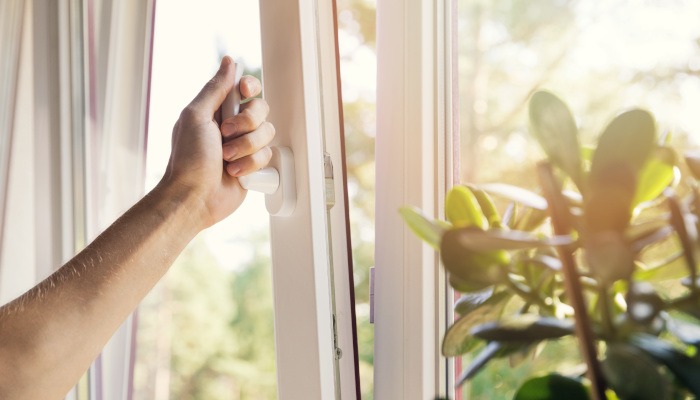 When thinking of retirement, many folks picture constantly sunny skies and sandy beaches. However, that's not ideal for everyone.
 Some want a slow pace of life with affordable living, an area with like-minded people and a good amount of activity to fill their days.
 Look to the Northwest to check all these boxes, whether it be Bellevue houses for sale or an apartment in Vancouver. There are many great places to choose from.
Vancouver, Washington
Sitting at the border of Washington and Oregon, Vancouver offers a big-city feel without the hassle.
The population sits at just over 180,000, and around 20% of that is people aged 60 or older. 
The tax situation here is ideal, as a Washington address brings with it no state income tax. There's also no state sales tax right across the border in Oregon.
Portland is not far away, so residents can venture to the city easily to enjoy all it has to offer.
Vancouver is an affordable place to live, with housing prices sitting well below the state median at around $287,000. 
Harbor, Oregon
Do you want to live small, in a place where you truly know your neighbors? Harbor has a population of approximately 2,000 people, many of which are of retirement age. In fact, the median age in town is 71, and around 80% of residents are 60 or older.
Oregon charges no state sales tax and doesn't tax Social Security income.
Housing is also affordable, as the median home value in Harbor is just $139,000.
Wenatchee, Washington
Wenatchee is consistently ranked as one of the top places to retire in the Northwest. This small city is home to around 34,000 people, about 18% of whom are 60 or older.
Wenatchee is ideal for outdoor lovers. It sits right on the Columbia River and has more than 20 local and state parks nearby. Gardeners will love the benefit the year-round climate brings.
Boise, Idaho
Boise is another big city with a small town feel. It's affordable and also safer than 40% of U.S. cities.
The weather is great year-round and there's ample opportunity for outdoor activities. 
There's so much to keep residents busy: Check out the Aquarium of Boise or see over 200 species of animals at Zoo Boise. There are rotating art exhibitions at Boise Art Museum, and hundreds of vendors to buy from at Capital City Public Market.
Richland, Washington
Richland is part of the state's Tri-Cities, which also includes Kennewick and Pasco. This part of southern Washington is an excellent place to live because it's in the Pacific Northwest sunbelt, which experiences less rainfall and fairly mild winters. 
The Columbia River flows right through the town, affording residents beautiful views and many outdoor activities. 
There are unique outings here as well. Ponder the big night sky and learn about space at LIGO Hanford Observatory, or discover more about the city's history and geology at REACH Museum.
Choosing the Best Gold Coast Homeware Retailers: 5 Factors To Consider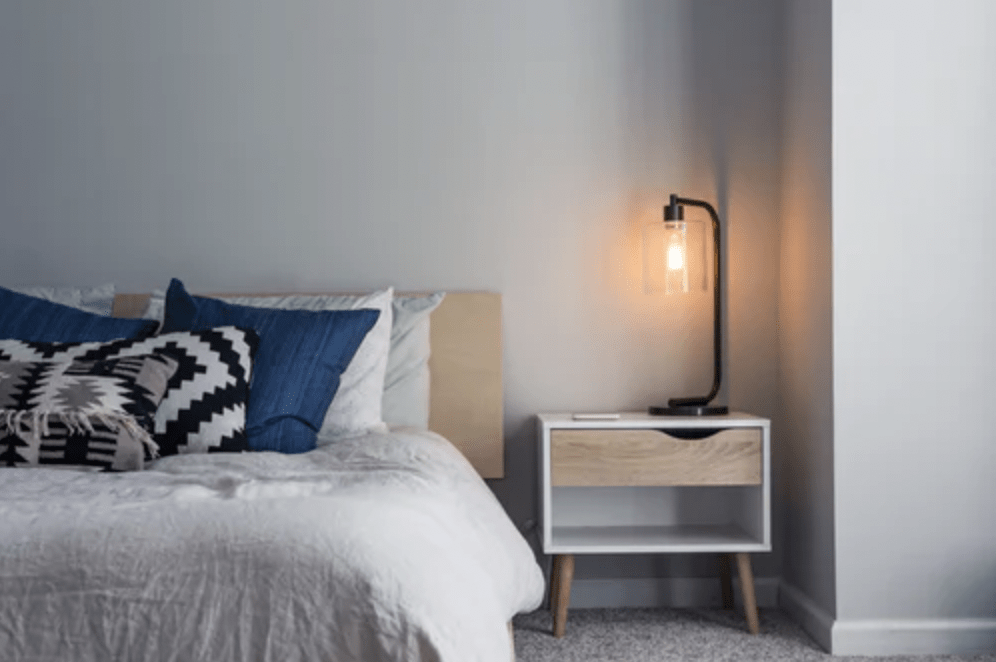 So, you've relocated and are now settling in. However, you will need a few appliances and other homewares to make your house more beautiful and useful.
Choosing the best Gold Coast homeware retailers is an overwhelming task. There are more to choose from, and each one has its strengths and weaknesses.
To find the best retailer for your needs, take note of some considerations to avoid regrets after. Here are 5 factors you need to take into account to help you narrow down which stores are best for you.
Variety of Products Offered
Before deciding which Gold coast homeware retailer is right for you, find which offers what you are looking for. Some best stores only stock certain items, while others offer a wide range of products. For example, Salt Living store, which provides a wide variety of products.
The best Gold coast retailer will carry a range of product types in their store. This is from furniture to bathroom accessories, bedding, and more that fit your style.
This way, there won't be any need to re-visit the store to find another item unavailable. Most stores also know that these days people want everything under one roof.
Product Quality Matters More Than the Quantity
When selecting a store, you should also consider quality. Choose an accessories store in Gold Coast known for providing high-quality products that will last for years. 
Would you rather buy a low-cost piece of furniture three times in three years? Or might as well discover a high-quality selection of homeware that will last three years? Durability is just as crucial as appearance.
You pick a gallery store for homewares that manufactures all its furniture using the highest quality materials. If you buy cheap furniture, it will soon break down, and you will be right back where you started.
The Price Point
Picking the best Gold Coast homewares stores is not just about finding one that sells what you are looking for. But, also one that has good quality products at competitive prices.
There are often differences in pricing, even if the store stocks are similar. There are often differences in pricing, even if the store stocks the same items. For example, if you want beach-style home decor, you can go to the Beach Furniture in Bundall, a family-owned boutique. However, the price of products in this store is different from other stores offering beach style or rustic pieces of furniture. So, it's recommended that you research prices from various local designers before selecting one within your budget. 
However, sticking to a budget doesn't mean you have to buy the cheapest vintage or coastal style you can find. You don't want to cut corners when talking about the quality. Instead, consider how important the item is and how good it is in supporting local artisans.
Look For An Online Store You Can Trust On
Whether you are looking for your everyday cooking utensil or elegant handmade ceramics, there is something for everyone at the online stores. It's easy to find the best designer, with all the best international brands available on the sites.
You can find deals and discounts on items that you otherwise would not be able to afford in an online store. Besides, it's a time-saving shopping style if you buy online!
Check online reviews and customer testimonials
When looking for a homeware store in Gold Coast, go with one that has a strong reputation in the industry. You must read the client testimonials on the store's website before choosing them.
Moreover, it can assist you in determining whether or not the operated furniture store is a good fit for you. So, take note to buy furniture and other home appliances from a retailer with the highest ratings and reviews.
Guarantee a Great Customer Service
Casual retail stores will have more relaxed customer service, while the best retailers may offer expert advice at no extra cost. Friendly staff members are always appreciated as well!
How about the store's delivery policy? Check to see if the store will provide you with a homeware warranty. Consider the cost and time of delivery, is it only available for the first and third Sunday? And also the return policy.
For an online store, you must read the store's terms and policies before placing your order. Some homeware retailers will charge you for Shipping Household Goods, while others will not.
Start Finding the Best Homeware Stores in Gold Coast
Gold Coast is perfectly-known for its beautiful range of beaches and amazing shopping stores. If you're looking for a Gold Coast homeware retailer, we know how difficult it can be to make the right choice. We hope this guide will help narrow down your search.
Get started now on selecting Gold Coast homeware retailers around so that you can enjoy buying something unique instead of feeling overwhelmed by it. Make sure that whichever store you choose fits these factors before purchasing anything!