8+ Advantages and Disadvantages of Motorcycle |Having Bike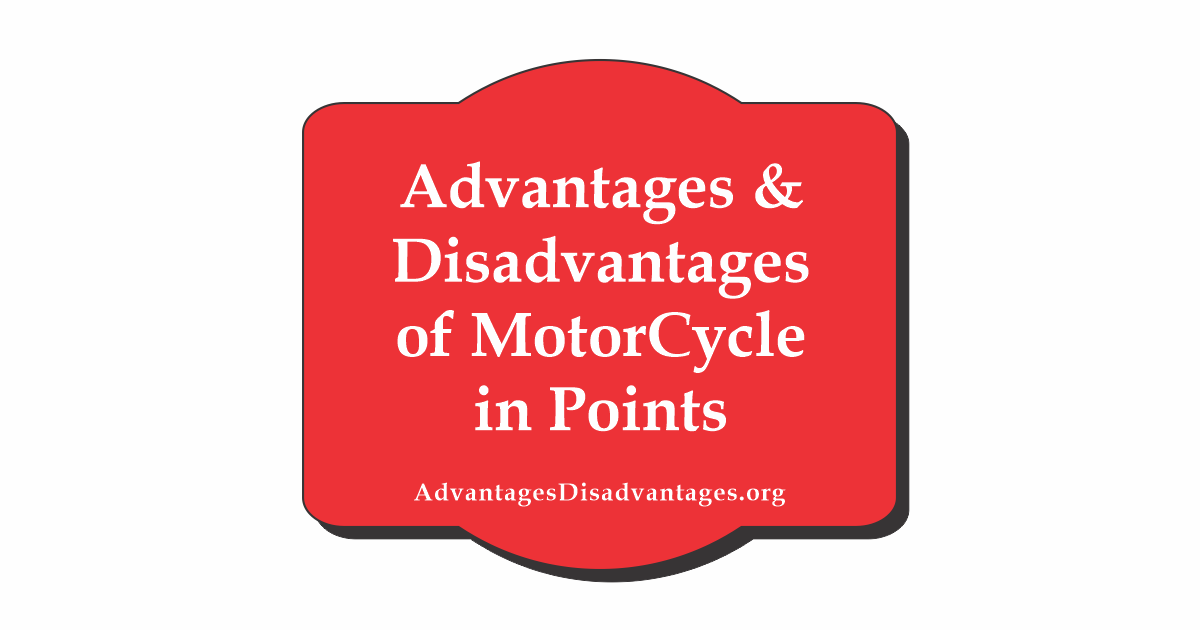 Motorcycle the world one of the Best and Dangerous driving machine. The thrill of riding a motor cycle is always advantages for me, but there are not only the benefits owning a motor bike has some disadvantages too. Before buy your favorite bicycle must read all the Pros and Cons of Bikes.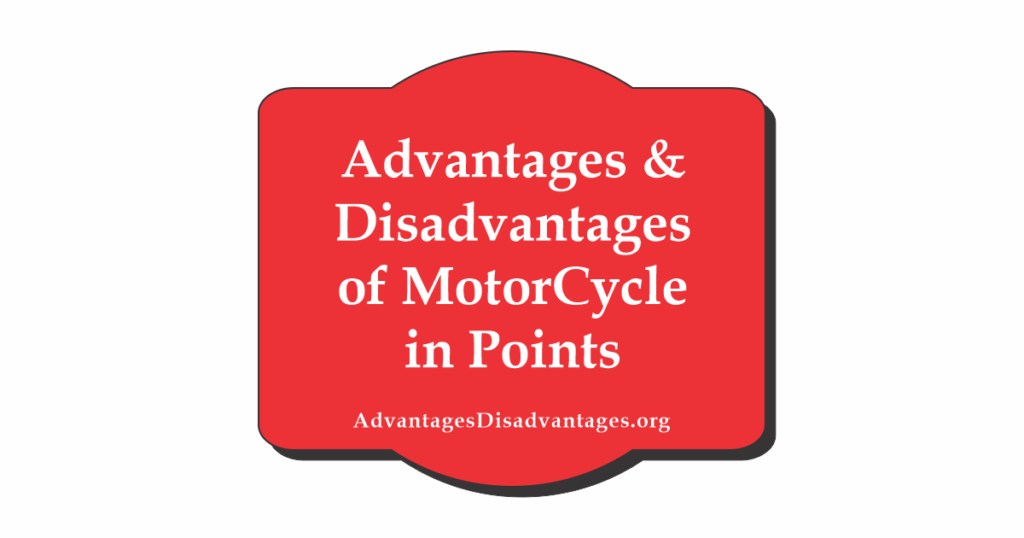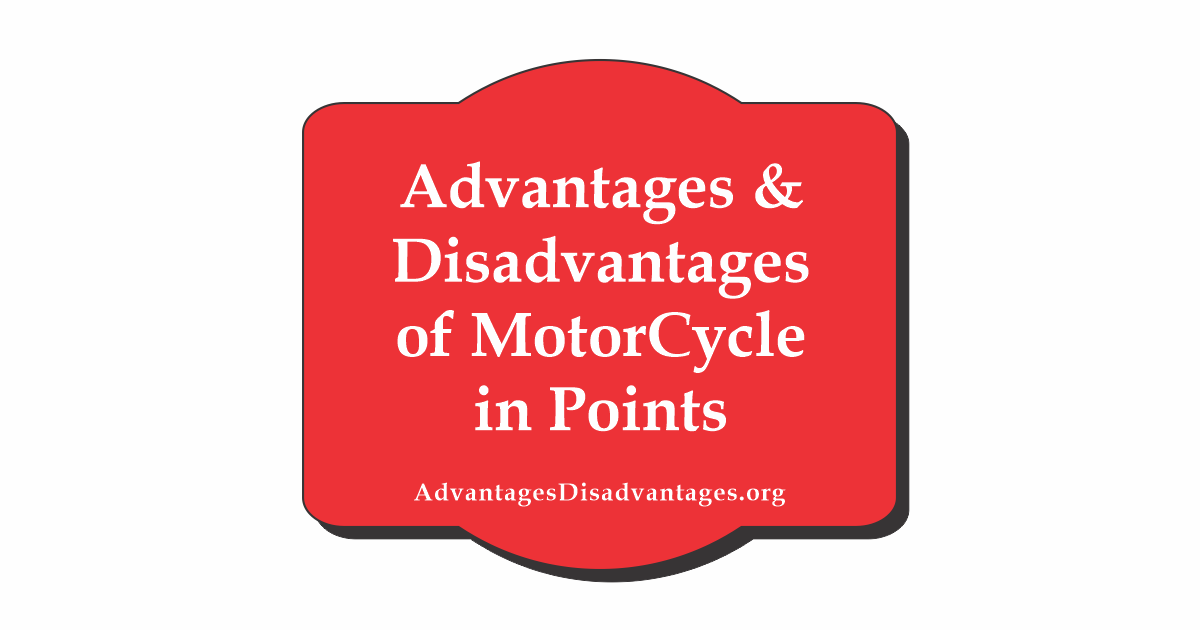 What are the Advantages of Motorcycle?
The first advantages we see of Less Fuel consumption. As compare to other vehicles like Car, Van or Bus, Motorbike consume the less petrol especially during the long journey and save money for us.

During repair, tuning and working hardware in engines consume less time and save time for us. Not only time it also save money too because other vehicles take much time and much money also as compare to bike.

Another big benefit of having motorcycle is we can easily find the parking everywhere. But if you have the car there are lots of parking problems. We can stand it everywhere also has no need of parking.

The biggest cities have always the problem of traffic jam and people get late, miss their flights and lot of other traffic jam problem. In this condition motorcycles is one of the best ride to reach to your destination. Motor bike can easily go into the little thin streets, just a feet distance require to overtake.

Buying the car have more expenses of taxes, insurance and documentation. But if you have the bike you there are very nominal charges of documents, taxes and insurance. These little charges give you more benefits.

The license of motor bike is easy to take and having no heavy charges. We can easily pass the test and in few dollars we can get the bike license.

Motorcycles also have many physical benefits. It's riding keep mind active and speedier because you need to take care of all the people driving around you.

Biggest companies now hiring the riders for deliveries, I always found the delivery boy on motorbike whenever I order online for Pizza, Burger, grocery items even for dispatching documents etc.

The speed of little bikes are limited and we can't do race with cars and heavy vehicles. But heavy bike is dangerous by their speed. It's big engine give speed around 200 to 400KM/H.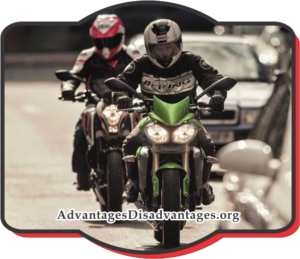 The above was some advantages of motorcycle; this is not only the end of our topic. We have some Disadvantages of Motorcycle too that are following in points.
What are the Disadvantages of Motorcycle?
In the list of Disadvantages the first drawback of motorcycle that it have no doors to protect you. Even no top roof and back side or front side bumper is not enough for you safety.

You are going to grocery store and in the shopping mall to buy your grocery for the whole month or for the whole week then motor bike is not enough for you because you can't bring your all grocery items on it.

As compare to car and other big vehicle there are more chances of accidents. Some people remove the mirror and unable to view back side. In the case of accident the person in the car is safe as compare to motorbike.

We have always needed the helmet driving without helmet is dangerous in case of accidents. The other disadvantage of having no helmet we can be caught by police they can ban our license or fine us.

In the advantages of motorbike we read the benefit of pizza delivery service, I know this is a good point but on the other hand it's not good for rider because some companies offer free of cost delivery when the rider gets late and never reach in specific given time.

The Tyres and tube of motorcycle is not as strong as compare to car so we have always the problem of stepney and puncture.

Motorcycle is always the biggest target for the thieves because it is easy to stolen. Thieves are always looking to stole thing that are easily to stole and easily to convertible to cash as well.

The other debate of having it we can't drive it in the rain or in the cloudy weather as well because of heavy wind and rain.

In the last week I was driving the motorcycle with father at one place there was wet road, I just push the break to reduce speed but got slip and fell down with my father.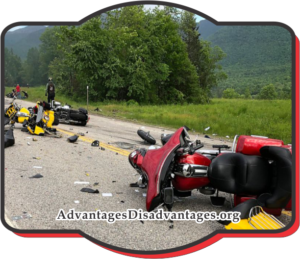 Say about your Motorcycle
Well friend! That is little research I found for you about the "Advantages and Disadvantages of Motorcycle". I personally have the 70cc bike and drive daily from house to shop and shop to back house. I am not using for racing and other activities that are not good foe me. If you have the bike you will know that what are pros and cons of motorcycle. Say something about benefits and drawback of motorbike in comment section or by using the contact us page.