Advantages and Disadvantages of Cloud Computing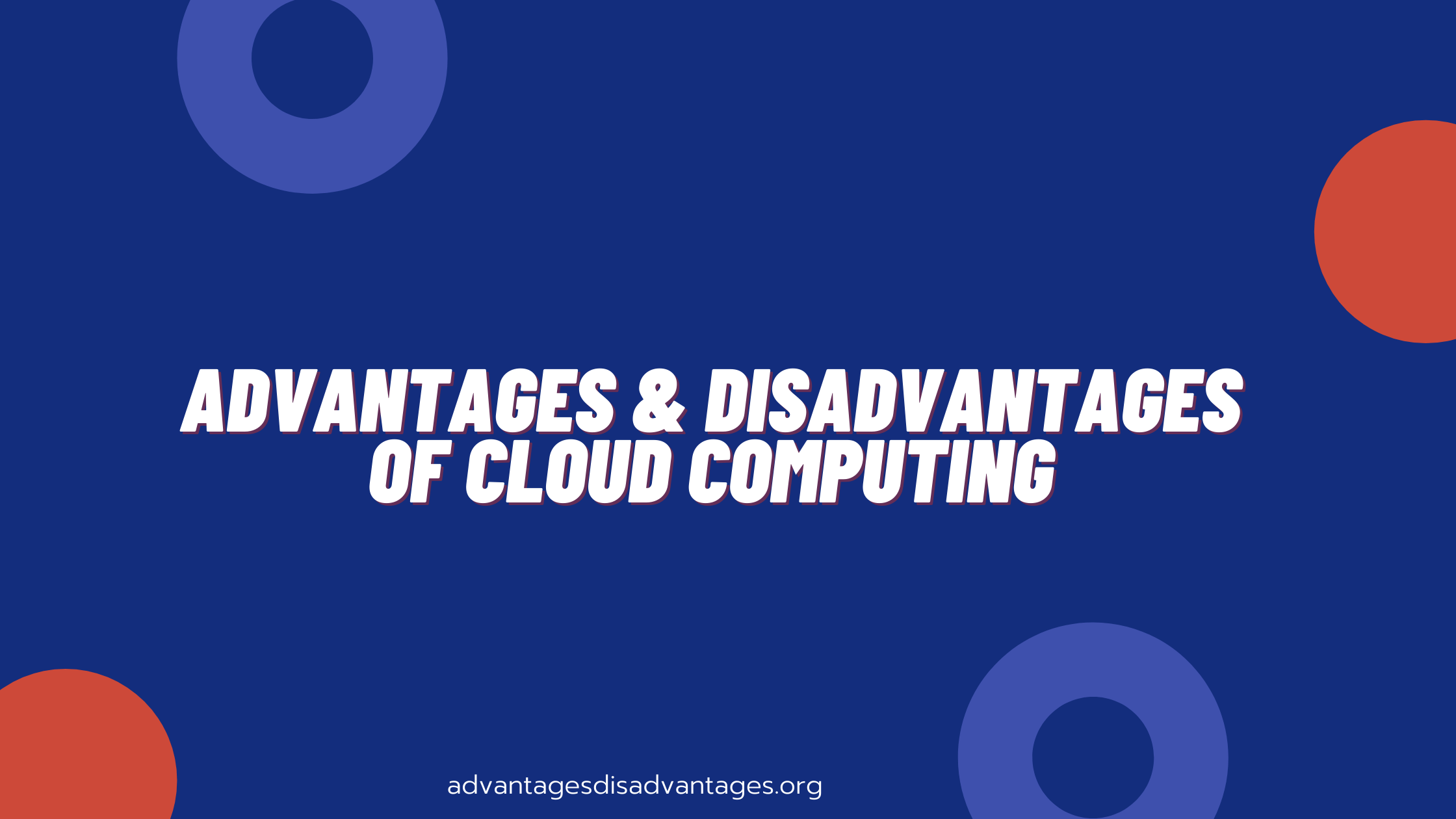 Cloud computing is the procedure in which we deliver different services through the internet. We use different resources, including many tools and applications, like data storages databases, servers, and software, to deliver the work.
We can also describe it as the on-demand availability of computer system resources, especially data storage. The service stores the data of any person or company and gives it to users of that company. Cloud computing plays an important role in the world of the internet, and it provides us many useful tools and software that helps us in our daily life, like in the financial and medical field. Cloud computing in the healthcare industry became especially helpful during the Covid-19.

How does cloud computing work?
Many companies do not know about IT, or they do not have experts who handle or store their data to use it later when they need it. To eliminate this problem, they hire some agencies that handle their data and help them whenever they need it. It is a very hard process to store data on hard devices and their backup, but with cloud software, we can save our data on electrical devices that cover the whole web. 
Understanding of Cloud Computing
By its name, we can make guesses about it as the information being processed is found remotely or in virtual space. The specific companies that provide cloud services enable the user to store data remotely, and users can access data at any time and any place.
Cloud computing can also be done publicly or privately. The servers that publicly provide their services for a fee. On the other hand, the private cloud allows access to data only to the registered users. 
Types of the Cloud Computing
This is not a single piece of technology; it has three types of services, software as a service, infrastructure as a service, and platform as a service.
Software as a service
For using this software, the customers must get a license, and for this, you have to pay charges for getting the license. You can see this system in Microsoft offices 365.
Infrastructure as a service
It is a method of delivering anything from operating systems to servers and storage through IP-based connectivity as a part of on-demand services.
Platform as a service
It is considered as one of the complex cloud-based computing. It is actually a platform for creating software, and this software is delivered via the internet. 
Advantages of the Cloud Computing
Cloud computing plays an important role in the world of the internet. They have many benefits which we described here.
It offers users from all sectors several benefits; they can access data from any device and any native app or browser. The users can read their data files and settings from any other device without any changes.

Cloud computing allows you to access your data on multiple devices; you can check your email from any computer and save your data in google drive and other software. 

It provides you cloud services at a very affordable cost because if you want to procure this in your office, then it makes a high budget which you can not afford. If you start your setup and you cannot buy new things because they are very expensive.

The cloud servers allow users to save data on their personal computers or laptops. It also provides upgrades to their users to easily update the customers, like the adobe users can access the applications in its creative cloud through online subscriptions.
Disadvantages of the Cloud
Although cloud computing has many benefits, it also has some issues that can be bad for us. Here we are going to tell you some drawbacks of cloud computing:
Security is one of the major issues when using clouds about the medical and financial records. Sometimes the servers maintained by the cloud computing companies can fall victim to many natural disasters, like internal bugs and power outages.

As with using any technology, there is a learning circle for both employees and managers while accessing and manipulating information through any single portal. It can cause mistakes and maybe data loss.
Conclusion
Cloud computing is one of important terms which have advantages and disadvantages both at same time. If you want to use and implement in daily life, you must need to understand pros and cons to gain progress. So, use and accept both to grow up in your daily life. 
Read Here : Instagram Advantages and Disadvantages