Advantages and Disadvantages of Nonprofit Organization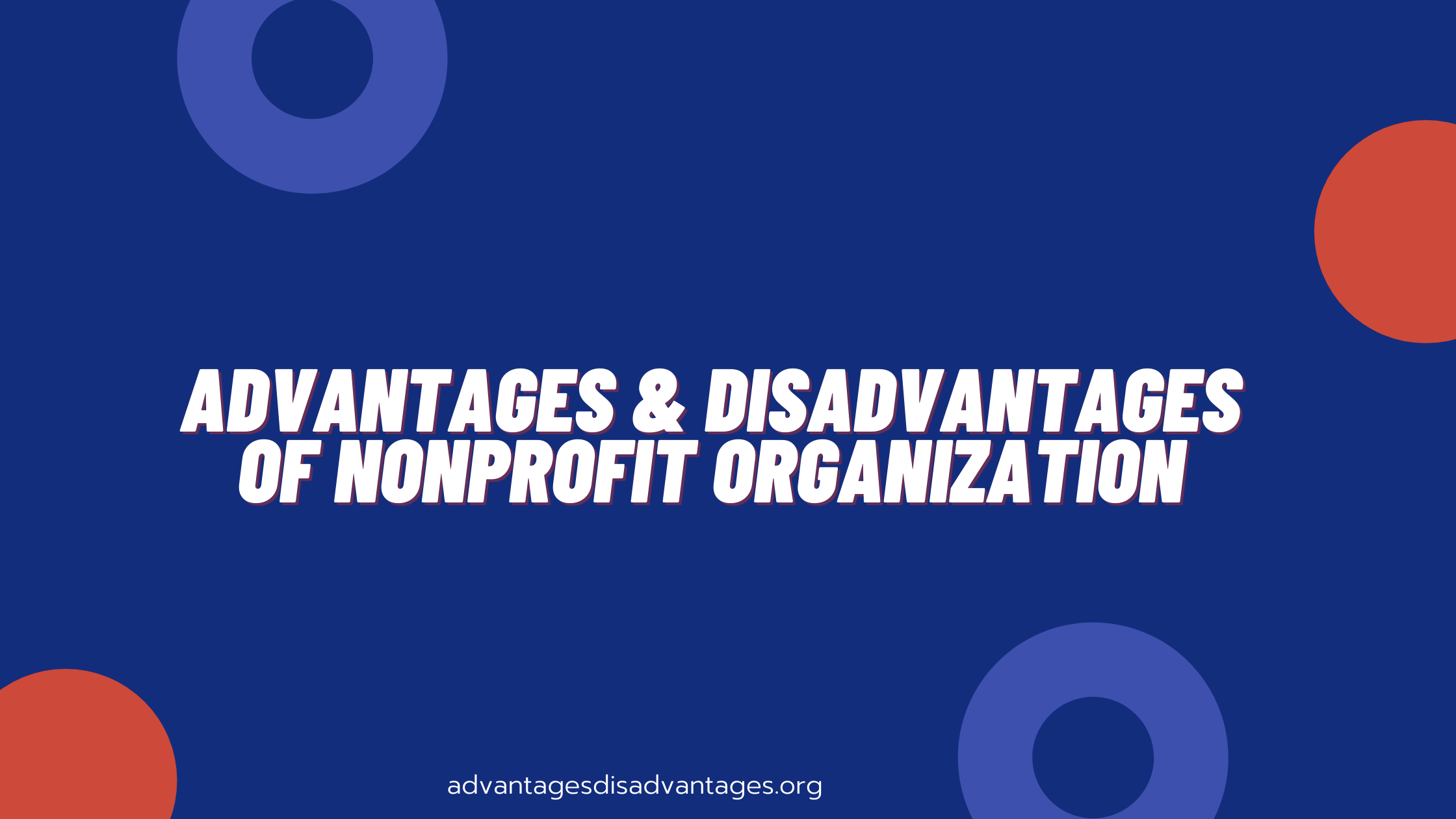 A nonprofit organization does not take benefit from its owner. Despite this, it gives money as a charity to different organizations. The nonprofit organization also received money from different donors to stay up for donations.There are many Advantages and Disadvantages of Nonprofit Organization.
Usually, non-profit organizations are tax exempted. They are not paid tax to the government as in Pakistan Abdul Sattar Edhi trust, Nisar Barni Trust. In many cases government help these organizations to run their setup.
Shortly it may be said that Nonprofit organizations take benefit from goods, donations, and services and recycle it back to serve others. They utilize these donations to get their goals.
Non-profit Organization area of Service:
Non Profit Organizations commonly serve Churches, trusts, Clubs, etc. They also serve in social areas during any incident like pandemic situations, earthquake, education institute, etc
Features of Non-Profit Organizations:
The prime focus of these organizations is to benefit humanity.No profit is dispersed amongst the partners.

Major financial assistance is provided by donors and contributions to the non-profit organization.

The non-profit organization is also perceived to be a separate entity.

The administration is managed by the elected members of the organization.
Advantages and Disadvantages of Nonprofit Organization
Advantages of Non-Profit Organizations:
Here are some advantages of a Non-Profit Organization.
Non-profit Organizations exist long ever. It cannot finish even donor or founder leave the organization. 
Exemption from liability:
The individual is not liable for the debt of organizations. Its means that in case of any sue or conflict owner's assets are not owned for recovery.
Non-profit organizations are not liable to pay tax because they use all amounts for organization purposes.
Non-profit organizations get any type of help or favor from the government. Like as a tax exemption, donation for the betterment of the organization. Government grant work as an additional source of funding.
A non-profit organization exists as a judicial independent entity and independently from its founder (s). Incorporation places the mission and structure of the non-profit above the personal interests of the people affiliated with it.
Unlimited Eligibility for the grant:
Nonprofit organizations are not confined to a specific area for grants. Anybody or any financial body in the form of the donor can donate an amount for charity and the organization is not liable to give a record for the expense.
Nonprofit board member and workers:
In Non-profit organizations, people eagerly work for humanity's service. Maximum people work voluntarily which help to save money. Another benefit is that every board member and employee has valuable skills which expand the network.
Dis-Advantages of Non-Profit Organizations:
Here are the disadvantages of non-profit organizations.
There is very little fundraising at the start of a non-profit organization. At the start, much effort and money are required. As we know that non-profit organizations work with donations that they take from different sources. So in the start, it was a bit difficult to agree with people.
Non-profit organizations must keep the costs accumulated during the year from the limited resources available so that the organization continues to operate effectively over the long term. They have a lot of funding difficulties because there is a lot of competition in fundraising.
The non-profit organization only works for the service giver so from this not the founder or board of members gain any profit. Because of this, it becomes difficult to attract investors. Even in case of the burden of expense if the owner leaves the company they never bring any asset with them.
Worldwide nonprofit organizations often face criticism for funding. People very less believe in non-profit organizations.
In the world of non-profit organizations, the time limits for paperwork are very strict. If an organization fails to meet its annual audit time limit, it may not proceed to meet the criteria for its tax-exempt status. Even the statements themselves must comply with particular criteria in order to qualify as an authorized filing.
Volunteer Board of Members:
In a non-profit organization, maximum board members are volunteers so it becomes difficult to search for skilled and expert members. Especially to hire experienced people with no pay.
Conclusion:
Non-profit organizations work to improve mankind without any expectation of economic and non-economic rewards. The team works with dedication to society and provides a variety of charitable services that the government and the various investors offer to these organizations. These organizations are free from the cost burden, i.e. they will not have to pay the taxes in the form of tax, but they need to keep proper records of their work in an organized format for this benefit.
Read Here : Advantages of Globalization