Hat mishaps that you must avoid this fall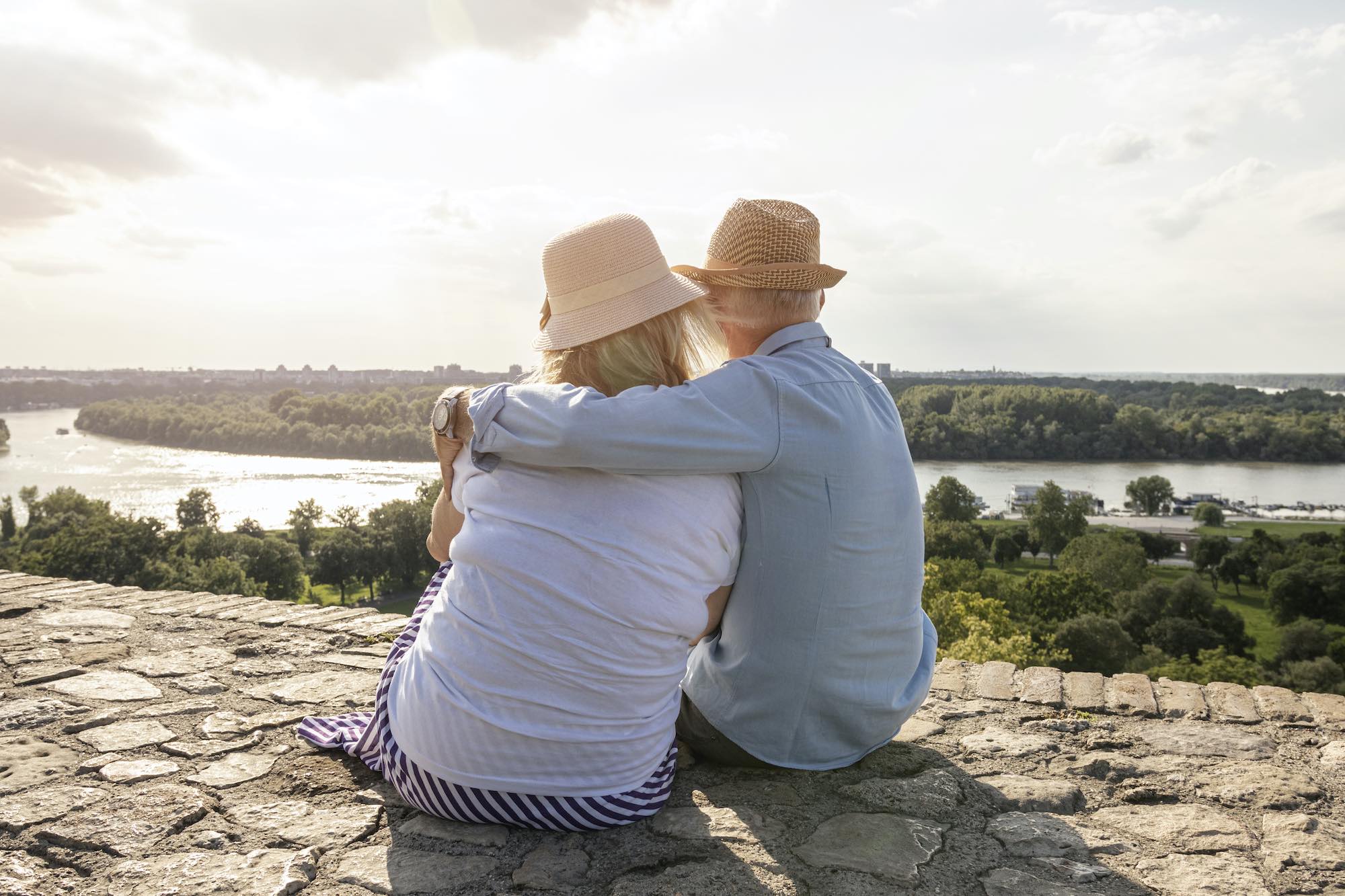 Hats have perhaps become an essential fashion accessory in recent times. Earlier, it was only a symbol of social status and gave a feeling of belonging to individuals. In today's fashion world, hats have a different role altogether. It is versatile, a wide variety of options make it easier to get paired with any outfit, and most importantly, it gives a fashionable appeal to your look. Be it a fedora, or baseball caps, or even bucket hats, headwear is worn simply as a fashion accessory, and it looks good; there is no denial at that. However, there are inevitable hat mishaps that one must avoid when wearing headwear.
When considering the bucket hat or the baseball cap, it is one of the safest fashion choices you can make. But bucket hats need not have large logos, or it is borderline wardrobe malfunction; even the size of a bucket hat can be a problem for fashion enthusiasts. Bucket hats, in general, are a safe option.
While baseball caps fall under the dangerous category, you can get baseball caps with both casual and sporty looks. It has also become a symbol for individuals with flashy jerseys. But as the winter season is all set to descend, there is a wide variety of hat options that one can see in the streets; below are a few mishaps that you must avoid when opting for headwear.
Don't even look at fedoras and newsboy hats
Celebrities, celebrities, and musical artists during the early 2000s often indicated that fedoras were romantic rock hats that gave you a relaxed vibe and a feeling that you have lived the life of the world as a weary man. However, it is not. It might sound like a rude awakening, but fedoras make you look like an international symbol of a fuckboy at this age. While newsboy hats only make you look old. No matter how many episodes of period dramas you have watched, or how elegant and sophisticated the lead seems, or your desire to have an old-fashioned ensemble. In real life, newsboy hats will make you look like another version of a regenerated grandfather. Opt for better headwear.
Styling your headwear directly on top of your head  
If fashion disasters were considered a crime, overly tight hats that rest exactly on top would be grave. The comeback or even the start of this trend seems meaningless. The only possible explanation for such hats is that headwear worn like this should only resonate with nonchalance and relaxation. But styling it a little tilted would seem better appropriate if at all one wears it. However, the image that tight hats bring about is of juvenile crime and youth prison. Fashion police need to up their game for such styling trends
Overly decorated headwear
Why you must avoid studs, logos, or any decorative items on headwear is a no-brainer. Unless you are a kid at Disneyland, puffy ears or wings on the hat are an excusable offense. However, if your childhood days are over, avoid wearing excessively decorated hats, similar to adhesive stickers and tags that hold humorous lines but, unfortunately, do not make you laugh. Another fashion crime is hats that have embedded studs. Studs generally give a rock appeal, but they only indicate that you are trying harder than you should on hats. Remember, it is headwear, a fashion accessory, not your personality.
Oversized Hats
Oversized is something that goes well with everything, but not when it comes to headwear. Avoiding large hats is a fashion rule none can escape. A hat larger than your head is another fashion crime. And these include wide-brimmed fedoras.
Straw sun hats for women are among the classic headwear that you can embrace in almost any season. However, the classic straw hat is a practical and timeless essential item, a must-have for every individual. The only rule is to wear it with style and your size.
Say no to overly bright hues and strange quotes
When it comes to outfits and dressing styles, fantasy and flair get warmly embraced. However, with the focus only on a single item, it can be a turn-off. And one should keep in mind that hats are only an accessory—a fashion item, to uplift your attire, and not the other way round. Therefore, if the hat you are wearing is the item that receives all the focus, while the rest of your outfit gets neglected, you are doing something wrong. Avoid wearing brighter hues or headwear with strange quotes.
Hats go well in darker shades of brown and black, which also compliment your outfit. Hats have made a fashionable comeback, but the trends have also changed. You can rock your look, but the only rule is to wear it the right way and avoid fashion disasters!
How much, on average, is a trip to Thailand?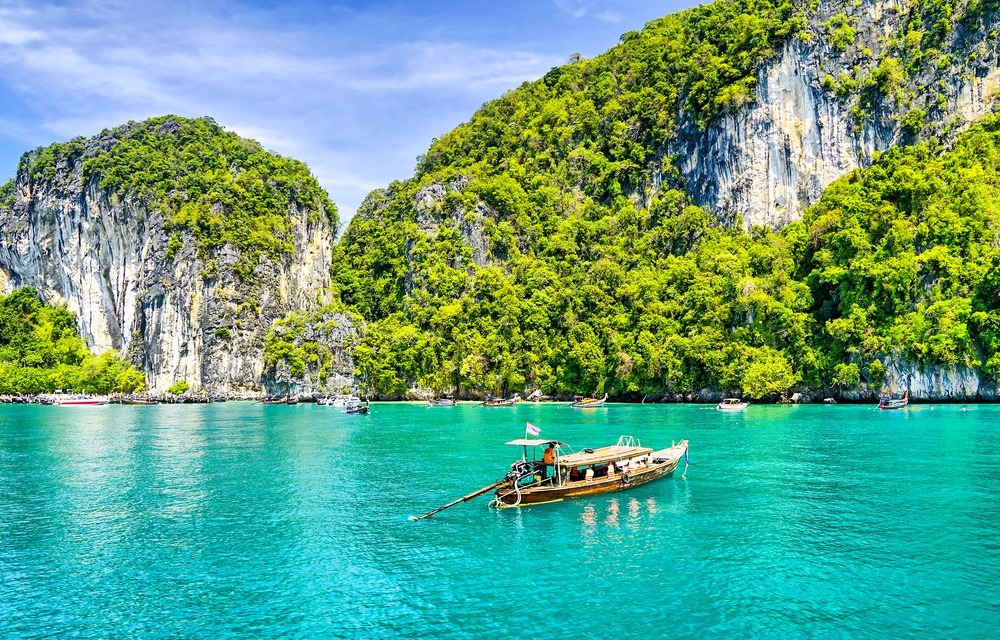 Before travelling to Thailand, many travellers inquire, "Is Thailand affordable?" or "How much does a trip to Thailand truly cost?" Or, "What are the finest money-saving ideas for Thailand?"
These are all legitimate concerns, and this blog will address them!
Thailand is a fairly inexpensive travel destination. Thailand is a highly reasonable tourist destination, while not being as inexpensive as its Southeast Asian neighbours such as emperornote.com.
Travellers on a backpacker budget may easily have a wonderful experience touring Thailand.
There are many inexpensive things to do in Thailand, in addition to moderately priced lodgings and eateries.
Thailand also offers a genuine luxury vacation experience, yet it's not too pricey.
Thailand is the ideal destination for the ordinary traveller who wants a rich cultural experience without spending an entire year's worth of cash.
This page will inform you about the prices of goods and services in Thailand, as well as how to budget for a trip.
Obviously, the real cost of a trip to Thailand will vary on the preferences of the particular traveller.
This post, however, is for individuals searching for a broad concept of a Thailand vacation budget.
When addressing Thai pricing, I will use US dollars. Because this is such a global currency, the pricing should make more sense than if they were listed in Thai Baht. (1 USD is about equal to 30 THB)
Thailand Travelling Cost
Considering the facts offered in this article, it is quite easy to create a trip budget for Thailand.
Consider if you wish to travel on a backpacker budget, a middle-class traveller budget, or a luxury traveller budget. You may even mix and match, saving money at times and spending sometimes.
Individuals are responsible for creating their own Thailand travel budgets, but these average costs of expenses in Thailand should give you an idea of what you'll spend.
Backpacker Budget: Average daily budget: $20-40 USD
It is relatively simple to tour Thailand on a budget if you adopt a backpacker's lifestyle and always choose the lowest choice available.
There are several free sites to visit, including temples, street markets, waterfalls, beaches, and vantage points.
Some prominent attractions may charge admission fees, but they are often nominal.
A typical day of spending for a traveller in Thailand would look somewhat like this:
Hostel dorm bed: 8 USD
Fruit smoothie: 1 USD
Temple admission fee: 2 USD
2 lunches of street food cost $6.
Taxi ride: 2 USD
1 beer from 7-11 costs $1.
Total Price: $20
But be careful not to be so frugal that you lose out on unique experiences!
You may arrange activities with the lowest businesses and organise several enjoyable day trips.
Book a half-day island snorkelling excursion for twenty dollars, a local culinary lesson for thirty dollars, or a Thai boxing fight for ten dollars.
Take inexpensive buses across the nation, abstain from excessive drinking, and mingle with the people.
You will enjoy a superb experience in Thailand while spending very little money!
Mid-Range Traveler Budget: Average daily budget: $50-100 USD
You may increase your Thailand travel budget if you're ready to pay a bit more than the ordinary backpacker.
Even if they cost a bit more, see the top attractions.
On occasion, have some delicious beverages on the beach. Book a one-hour Thai massage and perhaps a full-day scuba diving excursion.
Stay in reasonable hotel rooms and dine on a variety of dishes, including inexpensive street food and fine restaurant fare.
A typical day may look like this:
Budget double room in a hotel: 20 USD
5 USD for lunch in a restaurant
Cocktail – $5
Street food for dinner: 2 USD
The cost of souvenir shopping is four dollars
Cabaret Performance: $15
Taxi ride: 4 USD
Cost total: 55 USD
On a moderate budget, you may spend more on the things that are most important to you.
If you wish to explore more, you may pay for additional day trips, and if you enjoy dining out, you can treat yourself to extra food and beverages.
Regardless of your selection, you may still have the trip of a lifetime without exceeding your budget.
Luxury Traveler Budget: Average daily budget: $200-400 USD
If you opt to splurge on a luxury holiday in Thailand, you will be pleasantly pleased at how reasonable it is.
You may also pay for all the top activities if you're ready to spend a lot of money.
You may reserve everything under the sun, including guided temple tours, fantastic speedboat island-hopping trips, spa and massage treatments, individual cookery classes, and more.
You may indulge in the finest foods and beverages and stay in five-star lodging.
For those who dream of a trip like this but doubt they can afford it, Thailand is a reasonably inexpensive destination to live like a king or queen, so consider this breakdown of the typical daily spending.
Suite in a luxury hotel: $150 USD
Private temple tour: 50 USD
Thai cooking class: $30
10 USD for lunch at a tourist restaurant
30 USD for drinks on the beach.
Spa treatment: 20 USD
30 USD for dinner at a fine restaurant
Total cost: 320 USD per day
Despite the fact that most tourists would not be able to afford a luxurious lifestyle in Thailand, it is interesting to discover the actual expenditures.
The most satisfying way to tour Thailand is likely to be on a moderate budget.
You can still hang out with the people, eat street cuisine, and drink inexpensive local beer, but you will need to spend a little of money on incredible activities and finer lodging.
Thailand backpacking is also a pleasant and character-building activity.
The ability to use public transportation and read foreign menus will teach you a great deal. While living in hostels, you will also meet a large number of fascinating individuals.
Consequently, a Thailand trip budget need not bankrupt you.
You will have a memorable journey if you travel with a thrifty mindset, an open mind, and good energy.
A Breakdown of Travel Costs in Thailand
With a basic overview of Thailand trip prices at various budget levels, the information provided below will assist you in navigating particular budget issues.
These charges will include:
Transmission (to and around)
Food \sAccommodation \sActivities
Transportation Costs in Thailand
A summary of the costs associated with travelling to and within Thailand.
Go to Thailand via air
The airfare to Thailand varies by origin and destination.
If you are travelling from the Americas or Europe, it is likely that your flight will be lengthy and costly.
However, there are a few budget travel strategies that can help you get the most affordable trip to Thailand.
Fly outside of peak season (April through October)
Check services such as Skyscanner and Google Flights, which provide the cheapest departure dates for the full month, for the best deals.
Don't be frightened of odd layovers; they may be less expensive!
Consider altering your departure airport if possible (For example, flying from NYC to Bangkok is cheaper than flying from Boston to Bangkok).
Use these strategies regardless of where you are travelling from, and you should be able to get a flight to Thailand at a reasonable price.
Travelling to Thailand through Land
If you travel to Thailand by land, your travel costs will likely be quite low.
The cheapest way to reach Thailand from neighbouring countries is via bus.
There are several bus companies that travel to Thailand from Cambodia, Laos, and Myanmar, and the trip typically costs between 20 and 40 USD.
Transportation services in Thailand
Upon arrival in Thailand, you will use public transportation to travel across the nation (unless you rent a car).
The standard path for tourists in Thailand begins in Bangkok, continues north through Chiang Mai, Chiang Rai, and Pai, and then heads south to the islands.
Therefore, you will likely travel large distances inside the country, which fortunately may be accomplished at a low cost.
Local low-cost airlines are the greatest alternative for travelling vast distances around the country. One hour is required to get from Bangkok to Chiang Mai or from Bangkok to the islands.
Using low-cost carriers such as Nok Air, Thai Lion Air, Air Asia, Thai Airways, or Thai Vietjet, the typical one-way domestic travel costs between $30 and $50 USD.
Keep in mind that if you choose to fly, the cost of your Thailand vacation will increase.
Bus or Railroad -A lengthy bus or rail travel in Thailand, say from Bangkok to Chiang Mai, costs between 20 and 50 USD on average.
So, bus and rail fares are comparable to those of aeroplanes, but they can take up to 12 hours instead of 1.
If you enjoy unhurried travel and observing the scenery, buses and trains are your best options.
The most convenient method to travel big distances in Thailand is to take a flight, which is both faster and more affordable.
Here is a breakdown of the many types of restaurants and their prices in Thailand.
In Thailand, the cheapest method to eat is at street markets.
Full plates of food are available for as low as 1 USD, while little snacks such as fruit platters and spring rolls cost less than 1 USD apiece.
This is also where you will get the most genuine Thai cuisine, so regardless of your budget, street markets are the way to go.
If you want to prepare your own meals, the best location to shop is still a street market.
Large grocery stores in the western type are uncommon in Thailand. On occasion, you may see little stores or 7/11s that sell rice, noodles, snacks, and processed items.
The most affordable and freshest vegetables, meat, fish, and spices are available in the street markets.
Produce is inexpensive; a bag of fruit may be purchased for only a few bucks.
Cooking is a terrific way to save money, but street food in Thailand is so inexpensive that you might as well just eat what the natives prepare.
The cheapest choice for dining out in a restaurant is to dine at a tiny, modest, local eatery with a limited menu.
A full dinner at this restaurant can cost between 40 and 100 Baht, or around $2 to $4 USD.
In touristic regions of Thailand, there are several eateries catering to foreigners.
In addition to traditional Thai cuisine, this establishment also serves pizza, burgers, and European cuisine.
The average tourist restaurant dinner costs between 100 and 200 Baht, or between 3 and 6 USD.
Even at upmarket establishments, food is quite inexpensive.
A complete lunch in a restaurant of exceptional quality might cost several hundred Thai Baht, and it is uncommon for a single item to exceed thirty dollars.
Thus, Thailand is a fantastic destination to dine at the finest restaurants while spending far less than you would at home.
Accommodation costs in Thailand
There are accommodations in Thailand that accommodate any travel budget.
Thailand's accommodations tend to take the majority of a traveller's money, yet they are still very inexpensive compared to those in other countries.
A backpacker hostel is the cheapest type of lodging in Thailand.
The average cost of a single night in a dormitory room is between $6 and $12 USD. The $6 hostels will be more rudimentary, and the $10–$12 hostels will be considerably more luxurious.
Even though the price is low, all of Thailand's hostels are well-maintained and equipped with excellent amenities.
Numerous guesthouses in Thailand resemble modest, straightforward, and inexpensive hotels.
There are twin rooms available for somewhere between 15 and 30 USD each night.
Rather than paying for two hostel dorm beds, it may be cheaper for a couple travelling together to divide the cost of a budget double room at a cheap hotel.
If you want to stay in the top hostels, make sure to book them in advance on Hostelworld, as they frequently sell out.
Even moderately priced hotels in Thailand are quite inexpensive by Western standards.
A nice hotel with a pool and several facilities can cost as little as 20 USD per night, but the typical price ranges from 30 to 60 USD per night.
If you want to indulge in the greatest hotels and resorts in Thailand, you have an abundance of possibilities.
Particularly when travelling to the islands, you may find breathtaking beachfront apartments that cater to your every want.
True luxury hotels in Thailand may range in price from $100 to $300 per night.
There are a few unusual finds that cost even more, such as renting a complete villa with an ocean view for thousands of dollars, but it is unlikely that most regular travellers will seek out such accommodations.
Thailand Travel Tips on a Budgez
Here are some of the greatest money-saving travel recommendations for Thailand, which can help you save money throughout your trip.
Travelling during the off-season to save money on airfare
When travelling long distances in Thailand, choose inexpensive flights to save time and money.
Try to share songtaews with other travellers in order to save money.
Don't let tuk-tuk drivers swindle you off! Obtain a reasonable price before entering the car.
Eat street cuisine as much as possible. Not only is it extremely inexpensive, but it is also genuine and tasty.
When going out, local beer is the most economical alternative for drinking in Thailand.
If you are a solitary traveller, you can get a bed in some fantastic hostels for less than ten dollars a night.
Rather than paying for two dorm beds, it may be cheaper for a couple travelling together to divide the cost of a private double room at a guesthouse or hotel.
In Thailand, you should at least once enjoy luxurious hotel accommodation. Even if you are travelling on a backpacker's budget, it is possible to uncover fantastic offers.
Utilize the many free activities in Thailand, such as trekking, temple exploration, and beachgoing.
Spend a bit of money on activities such as culinary courses, boxing fights, massages, and snorkelling trips. Attractions in Thailand are often rather inexpensive.
Almost often, spending money on experiences in Thailand is worthwhile. Reserve excursions with reliable organisations and savour every moment of Thai culture.
Advantages And Disadvantages Of Moving Abroad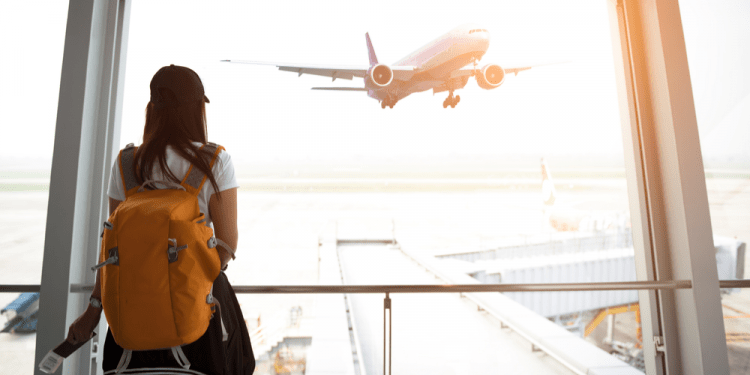 Technology has made the world seem like a tiny place. However, to shift from your home country to another is quite the challenge. While it can get exciting and thrilling, there are pros and cons to all decisions. Most people shift to other countries for better job opportunities for business—many shift to be with family members or other loved ones. Many couples in long-distance relationships move to a new country as a fresh start.
While there are many reasons why you may want to shift, you must ensure that all your documentation is done correctly. Since moving around has become exceedingly common, many people forget the importance of the right kind of immigration paperwork. If you want to move to a new country, you should contact creditable immigration solicitors in Bristol and ensure all your documentation and legal issues are taken care of.
Like we mentioned, there are many advantages and disadvantages of moving abroad. Let us look at a few so you can make an informed decision.
Advantages of Living Overseas:
New Culture:
If you're moving to a new country, there is a good chance you will get immersed in a new culture. Most countries have their festivals, cultures, religions, traditions, and holidays. If you make local friends who speak the native language, you could also be included in the festivities surrounding this new culture. Understanding how a society and its people function is critical at notable social gatherings like house moving, weddings, funerals, and more.
Build up Language Skills:
Some people feel moving to a new country is the best because you learn a new language. When shifting, you should check the native language and how different it is from English. Many languages have common words, but you would probably not find many similarities if you're going to the Asian subcontinent. Moving abroad will help you develop excellent language skills, which may help you further your career. Many large companies prefer multilingual people since you may be asked to translate now and again.
Meet New People:
Most people have grown up in the same neighbourhoods like apartments in Manor and known the same people their whole lives. Moving abroad helps you meet new people, interact, and build your social and soft skills. You will also learn to be more tolerant of other peoples' views, religions, and cultures. By meeting new people, your outlook on the world broadens, and you realize you are part of a larger group of multicultural people living together in peace and harmony. Trying new things with native locals, learning how to be one of them, sharing food, holiday, and traditions together can be an incredibly humbling experience that will help you grow in the long term.
Disadvantages of Living Overseas:
Culture Shock:
Many people have to deal with culture shock. For people moving from smaller countries to larger ones, the culture shock is usually about the fast-paced environment. Others feel very taken aback by the difference in dress, language, and tone. Some people do not adapt well to the working environment or the daily hustle-bustle. There are many reasons for culture shock. However, the best way to cope is to find something familiar or comfortable that brings you peace. It would help if you always tried to search for things that remind you of home in a foreign place. For many people, this connection with their home happens through food. If you eat or cook something that reminds you of your homeland, you will start to adjust better.
Bureaucracy:
In many countries, bureaucracy in daily tasks can be tiresome. Small things like getting a new driver's license, arranging for the stamping of the rental agreement, getting new insurance, and so on can be rife with bureaucracy. To overcome bureaucracy, you should try to remember that these things need to be done only once. As soon as you are done dealing with them, you will probably not have to go through this process again. You could also get in touch with others from your home country to help make this process a little easier. Sharing stories will help lighten the mood while ensuring your work gets done within time.
Homesickness:
The most considerable disadvantage is homesickness. No matter how many times you move or how long you've stayed abroad, homesickness can hit at any time. A good idea to deal with homesickness is to add a few things into your daily routine. Things like weekly video chats with your family, cooking a traditional dish, wearing traditional clothes, and so on can help cope with homesickness.
Advantages and Disadvantages of Green Card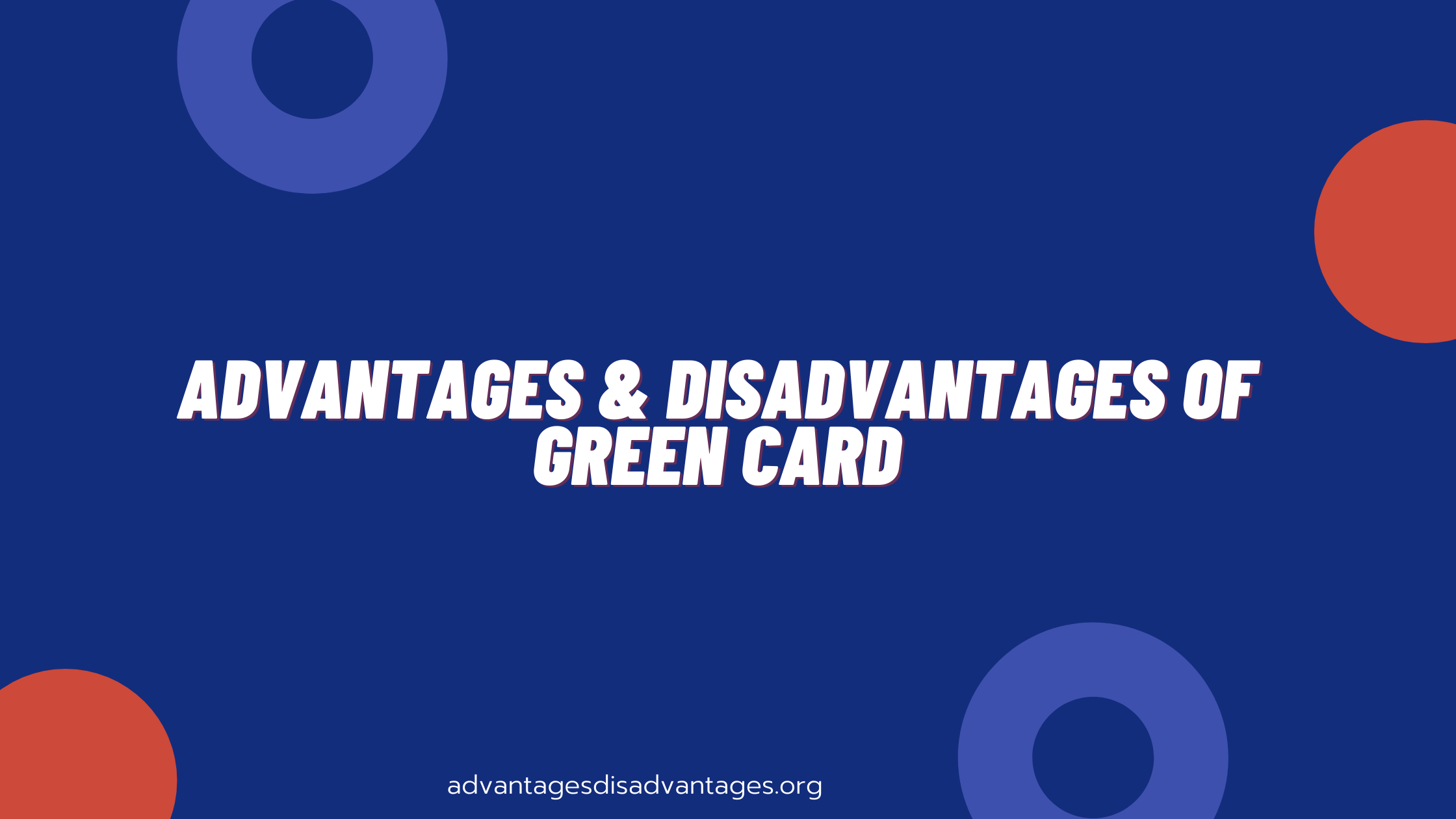 Do you know about Advantages and Disadvantages of Green Card ? A green card is officially referred to as a permanent resident card. It is a declaration document that the United States offers to the refugees under the Immigration and Nationality Act. This is evidence that the owner of the card has the right to permanent residency in the country of residence. About 13,2 million individuals are currently in possession of this registration, and almost 9 million of whom are qualified for citizenship.
Green cardholders get the opportunity to register for citizenship after they have been continuously living in the U.S. for at least five years. There should also be proof of "good moral character" to complete this process. And anyone who is younger than 18 can automatically be granted citizenship if they have at least one parent who is also a resident or green cardholder.
The majority of applications for a green card have been determined by the United States Citizenship and Immigration Services. The Immigration Court or the Immigration Board of Appeals may also approve permanent residence under specific terms and conditions. Any certified federal judge can do the same by authorizing and signing a warrant.
For many individuals, the Green Card is a huge indicator of success or accomplishment. After years of struggle and wait through backlogs or dreaming about settling in America, the card is a confirmation of achievement. Holding the Green Card in their hands, they can breathe a sigh of relief that it paid off all their hard work and effort.
Because the Green Card is regarded in such high esteem, many clients likely want to talk about ways to get one. However, another similarly critical aspect of the conversation must involve the possible negative implications of receiving a Green Card. Despite the Green Card attraction, it might not be the right choice for some individuals. Let's discuss all advantages and disadvantages of green card in details:
Advantages and Disadvantages of Green Card
List of the Advantages of Green Card:
The Green Card grants you the rights and responsibilities as a resident
When an immigrant gets a green card, he or she receives the same rights and obligations as those with full citizenship. This means that anything from legal process to freedom of expression extends to that individual. It allows them to get approval for financial support, and the applicant can work anywhere he or she wants in the world. If anyone works for at least ten years, they will also be considered for Social Security benefits for this position.
Green Card holders can sponsor green cards to your close family
If an applicant has the green card approval to allow them permanent status, they can authorize their immediate family members to enjoy the same privileges. The United States determines those qualified for this gain as wives, parents and single children under the age of 21.
It may also be possible to sponsor extended family members within the Preferred Family group. While it does not result in an automatic green card, this advantage may result in the issuance of a visa application which might lead one day to permanent residence.
It's easier to travel to and from the U.S
You must comply with the citizenship requirement to continue keeping a green card, but this documentation also makes it much easier to fly abroad. The Green Card symbolises the permanent legal status of an immigrant in the world. This ensures that U.S. immigration authorities must accept someone who shows a legitimate card before they enter a border crossing point.
Green cardholders will have access to more career opportunities
An employee must sponsor an immigrant who travels to the U.s on a work permit. If anyone holds a green card, then they're free to work almost everywhere in the world. They even have the right to become an entrepreneur to set up a business of their own, if they want.
List of the Green Card Disadvantages
You must conform to the requirement of residency
When anyone gets a green card in the U.s, they have to devote enough time in the country to have lifelong ties to it. If you do not feel the need to make the U.S. a permanent home, this decision might not be the right one. If you are deemed to be in non-compliance with this provision, then your status will be transferred to "abandonment."
If you're on a vacation lasting more than 180 days or travelling overseas constantly, then those acts could be enough to drive a green card away. You can request an extended travel visa, but it is also best to practise to contact an experienced immigration lawyer if you have questions about the logistics of your living conditions.
Holders of Green Cards have to consider  tax responsibilities
Several reasons involving taxes may discourage anyone from applying for a green card. This status allows anyone to declare permanent residence before submitting a return. If anyone applies as a non-resident, they may have an instant effect on their eligibility – and also on their right to apply for citizenship one day. Many holders of green cards are expected to pay higher taxes than someone with a non-immigrant visa.
It may lead an immigrant to lose the forfeit of his home country
Citizens of some countries can forfeit special privileges if they become the owner of a green card in the U.s. Any immigrants may face this problem even though they do not obtain a document, but want to remain in the U.S. for a longer length of time. After six years of non-return, the Australians will lose their right to vote in local elections.
Every country does have its own rules on the status of people living in another country. Each immigrant must review their local laws to decide if there are privileges that they would like to retain before submitting for a green card.
Getting a green card can result in a loss of support staff
If a foreign entity is a primary visa holder with a support team assigned to the document, receiving a green card can disprove the status of everyone else. That's why anyone who has seen the same people with them for a few years can decide to keep their current position. A director with O-1 status will lose anyone affiliated with this disadvantage.
Immigrants must meet with a medical examination
Anyone applying for a green card must undergo the mandatory medical examination as part of the application process. This drawback can entail vaccines which may include religious or moral aversion to receipt. The U.s accepts only a couple of cases that warrant suspending this provision, so that it can be a barrier to the entire procedure.
If you are not healthy enough to pass the test, the status of your submission will be in jeopardy before you hit the point where you are.
You might get a conditional green card
The regular green card grants the recipient 10 years of citizenship as a permanent u.s. citizen. Any citizens may be given a conditional green card, however. If an immigrant receives this form, he or she is unavailable for renewal. The individual must submit a petition to lift the requirements attached to his status 90 days before the expiry date. If anyone fails to comply on this matter, he or she will forfeit his or her permanent resident status.
You must always carry your green card with you
Section 264 of the Immigration and Nationality Act specifies that someone who refuses to comply with the requirements and legislation on their green card status is guilty of an offence. This ensures that you must request a certificate of registration and obtain a passport that specifically indicates your status. If you are over 18 years of age, it must be kept with you at all times and also in your possession.
Any drug-related crime could lead to a potential loss of permanent resident status
Any drug-related felony conviction could make anyone ineligible for a green card. This drawback remains even though the arrest is for possession meant for private use. The Immigration and Nationality Act contains only one exception to this problem. If you have been found to have 30g or less of weed for personal use, you may apply for a waiver while concerned with the validity of your green card. Anything else would make you ineligible for a green card unless certain conditions apply.
Waivers are specifically impossible for those accused of abuse or murder.
A green card is an efficient way to start the process of becoming a resident of the United States. This document enables permanent residence for up to 10 years at a time. If you have been approved, only your decisions can provide opportunities for the state to revoke your rank.
There may be circumstances where a conditional green card may not be extended. The regulations concerned are tight and unforgiving. If you meet a deadline or cause the paperwork to expire, an unfavourable result is likely to occur.
The advantages and disadvantages of a green card are important to consider if you are planning to live and work in the United States. The complexities of the laws and regulations that affect the U.S. and the refugee home country also needs the help of a lawyer, an accountant, and other experts to ensure that the process operates as efficiently as possible.
Read more about : Advantages and Disadvantages of a Corporation