How To Entertain Kids on a Road Trip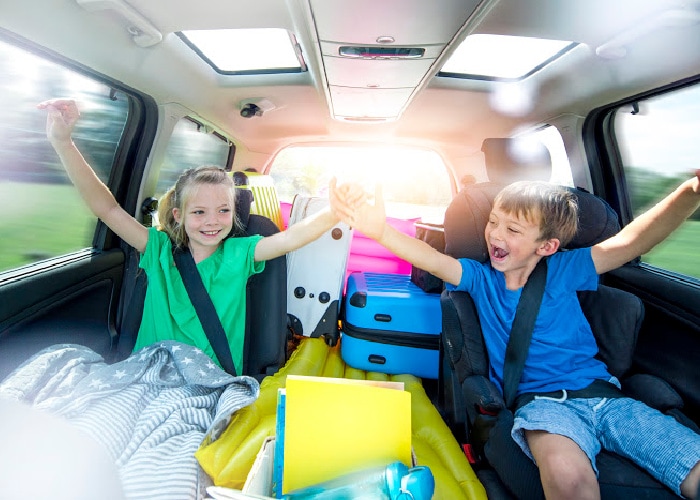 When it comes to ways to travel a long distance, a road trip is undeniably appealing. Having control over where you stop, how fast you go, and what odd and delightful sights you go out of your way to see along the way mean you have total control over your holiday. Plus, being in the same car the entire time allows you to keep some crucial creature comforts around from home, whether it be a collection of your favorite snack foods or a particularly cozy blanket.
If, however, you have kids, road trips take on an entirely new dimension. The little humans of the world don't always have the same patience for long drives, nor are they likely to delight in the whimsy of such stops as 'The Largest Spoon In The World' like you might do.
Here are a few simple ways to keep kids entertained on a road trip.
Invest in the Long Games
Everyone is familiar with the standard car games of eye spy or license plate bingo. There's also the traditional fallback of rhyming games, singsongs, and making up stories. However, these are only short-term games that will inevitably end in fifteen minutes or less and leave your kids as bored (and as likely to whine that they're bored) as before.
Coming up with a long-term game to play for the entirety of your road trip – whether it be hours or days – at the very start of the journey is a great way to keep the young ones interested throughout. My Cows is a good one: each time you see a field of cows on the road, the first person to spot the cows shouts 'My Cows!' gets to 'collect' the cows. At the end of the trip, the person in the family with the most cows wins!
Don't Be Afraid to Bring out a Screen
Though you may be tempted to avoid using technology to distract your children, misty-eyed with memories of your screen-free youth, don't be afraid to keep your little ones amused with big tablets for kids. Especially on extra-long trips – across the country, for example, or down the entire west coast – there is no shame in sliding a device into their laps that will keep them quiet and out of your hair for a few hours at least.
If you're wary of melting their little brains into mush with the normal swill that children are encouraged to consume, go to the trouble of downloading content beforehand that you know will be valuable.
You can also set careful time limits to the amount of screen time your kids are allowed while stuck in the backseat! In the first few days, carefully take note of the times of day when they are most likely to get bored or annoying (for many grown humans, the window of circadian low is a good indicator of this, and the same goes for children) and allow 'tech time' for that window and that window alone.
Follow these tips and your journey will go smoothly!