The impact of sports media business on society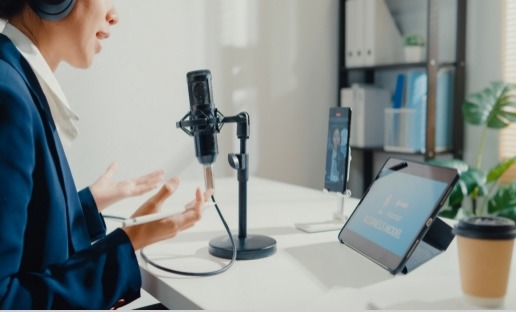 We all interact with the media on a daily basis. Whether watching TV, listening to the radio, scrolling on social media, or the internet, the media greatly impacts our day-to-day lives. Sports media has not been left behind; our engagement with sports has changed over the years. Sports media business shapes how society views teams and athletes as well as sports issues.
The quality of information, sports visibility, generated revenue, and popularity have exponentially increased. We've moved from the days when fans could only engage with their favorite teams and athletes in newspapers. Now, fans are able to have two-way conversations with their favorite players on social media. Platforms like Twitter, Instagram, YouTube, Facebook, and TikTok have made it possible to build and nurture relationships between fans and players.
Sports journalists also have to embrace social media to grow their businesses and share breaking news, viral moments, and humor with fans. Most journalists opt to break news on Twitter and then write an article about it. Social media also comes in handy to show fans most of the work that goes on behind the scenes. On top of all this, to stay relevant and grow your own personal brand as a sports journalist, social media is key.
Sports business media has evolved sports broadcasting to be data-driven. Data helps sports journalists have a deeper understanding of different facets of the industry and gain authority in the field. It has helped journalists highlight gender, resource gaps, and even doping issues in the sports industry. It's also educated fans and helped businesses and brands manufacture profitable sports products.
Sports media business on data-driven broadcasting
Sports journalists can now effectively use data to create unique and engaging coverage for their broadcast and digital platforms, which can be customized for different audience demographics. A Stats Perform Fan Engagement report revealed that more than half of respondents cited enhanced statistics, analysis, and perspective as the most important element of an outstanding viewing experience. It was also found that modern fans embrace data-led content, as they prefer to go deeper into the game with predictive insights.
As a result of this, sports journalists have started to recognize the potential of leveraging data to provide a more enjoyable fan experience, as many have grown up with Fantasy Premier League, FIFA, and Football Manager. This has led to more advanced Opta Analytics metrics being used for second-screen experiences and offering viewers a greater choice of insights. We have also seen the introduction of more predictive metrics such as Live Win Probabilities and League Simulations, which demonstrate how results on a matchday can impact the team's overall chances.
As we move forward, a significant milestone for data application in broadcasting will be reached. For the first time, advanced performance metrics will be available using tracking data, which captures the on-field movement of all 22 players and the ball for the entire 90 minutes. This data has not been fully utilized up until now, but with Opta Vision, a series of new advanced metrics from Stats Perform, commentators will be able to objectively inform audiences of tactical changes that are impacting the momentum of the match. Studio pundits will also be able to use tracking-powered predictive models to enhance their post-match analysis of a player's performance and decision-making.
Currently, sports journalism graduate programs equip journalists for modern-day sports media business centered around data-driven journalism. The online course by St Bonaventure University allows journalists to tell more engaging stories and provide viewers with the power to control the data-powered content they want to consume, thereby increasing the chances of retaining viewers on a matchday for a longer period of time.
Additionally, sports have the potential to bring about a positive change in society. They can be used as a platform to do something beneficial. Numerous foundations set up by athletes and teams are raising money for causes, big competitions are stimulating the local economy, and children are being inspired to be active. Let's take a break from off-field issues or even games and redirect our attention to the impact of sports media on society.
Economic impact
The sports world is a billion-dollar industry. What may not be as well-known is that sports bring a considerable number of positive benefits to local economies, particularly when it comes to the influx of tourist money. For instance, the 2010 New York City Marathon had a major financial impact, contributing $340 million to the city's economy. The Chicago Cubs also help generate more than $638 million for the economy and more than $80 million in taxes annually.
Strengthens national unity
Events such as the Olympics and World Cup give citizens a shared sense of patriotism and national unity. These international gatherings provide an opportunity for people to come together and show their support for their homeland. In 2014, Americans demonstrated their enthusiasm for the men's national team by purchasing 200,000 World Cup tickets. The game against Portugal was one of the most viewed soccer games ever in the US, having 24.7 million spectators, according to FIFA and CBS News.
In times of distress, sports can have a positive impact. During the Cold War, the Miracle on Ice was a source of hope, and South Africa's 1995 Rugby World Cup championship provided a sense of unity for a nation that had been divided by Apartheid for so long.
Pride in the city
Watching a game creates a sense of unity and companionship between strangers who are natives of the same city and supporters of the same team. For instance, the Seattle Seahawks have fans who are extremely devoted and loyal, feeling like they are part of the football team.
Provide inspiration to the youth
Role models are individuals who serve as sources of inspiration, providing guidance and motivation. They play an important role in the lives of many people, showing them how to live and act in a way that is beneficial. By following the example of a positive role model, people can gain insight into the values and behaviors that are necessary for success. If you were to ask young children who they look up to, it is likely that many of them would mention a professional athlete.
A good example is Anthony Tarantelli, a 7-year-old boy, who sent his Pee-Wee football jersey to Houston Texans' defensive end J.J. Watt. Along with the jersey, he included a letter declaring himself to be Watt's "biggest fan." Due to his reputation as one of the NFL's most prominent role models, Watt responded with a VIP swag package and a letter of his own.
When asked if he saw himself as a role model, racer Matt Hammond responded, "I'm aware that people are watching me and that I should put forward the best version of myself. I'm not here to pass judgment on anyone else, I'm just concentrating on what I can do."
Assisting and encouraging children to exercise
The Centers for Disease Control and Prevention (CDC) reported that more than one-third of children and adolescents are either overweight or obese. Admiring athletes may inspire young people to participate in sports. To promote physical activity and health, many sports leagues have launched initiatives. For instance, the NFL Play 60 campaign seeks to counter childhood obesity by motivating kids to stay active. The MLB RBI program is another example, which aims to bring baseball and softball to low-income urban youth.
Sports media is encouraging kids to be active in sports as they also want to achieve the success their favorite team or athlete has achieved. Highlighting the importance of exercise and discipline has seen millions of youth participating in sporting events.
Community involvement
The majority of teams and leagues have a department dedicated to community relations or a charitable organization. As a result, professional and collegiate athletes often give back to their communities by taking part in volunteer activities.
In 2013, the athletic department of Northwestern University created a program called Reach Out and Reinforce Respect, or ROARR for short. This anti-bullying initiative was developed by student-athletes in association with the community relations group of the athletic department. A multitude of sports teams and athletes have stepped up to assist their local communities.
Most of the athletes in the professional realm have established their own charitable foundations. Since 1996, Derek Jeter's Turn 2 Foundation has been working to promote a healthy lifestyle for youth. To date, the foundation has raised over $34 million to motivate young people to be clean and refrain from drugs and alcohol.
How journalists work with sports communities to create social change
Sports have been demonstrated to bridge gaps, provoke dialogue, and promote transformation. Sports journalists can capitalize on this capability to empower sports groups to be agents of change. By joining forces, they can launch purposeful collaborations to defeat even the most daunting challenges for the benefit of athletes, supporters, neighborhoods, and the environment.
1. Assemble and activate
Bringing together those in the world of sports is key to taking advantage of the tremendous potential it has for making progress with social causes. Sports journalists can collaborate with athletes to make them aware of the courses they can support and the gaps to fill in society. As a journalist, it is your responsibility to look for such revolutionary collaborations and to motivate others to do the same.
2. Heighten the importance of what matters
Sports journalists have an obligation to highlight what matters to society. They can create purposeful alliances to deepen their reach and make an even bigger difference. This could involve utilizing the fame of certain people or engaging spectators through several media platforms. When you join forces with well-known, far-reaching athletes, teams, or games, you are able to boost your effect for the advantage of all.
For instance, in 2021, the White House and the US Department of Health sought to encourage vaccination against COVID-19 among young, hesitant Americans by turning to Riot Games, a computer gaming company that has 100 million players per month. This unexpected partnership proved extremely effective; it reached 1.5 million viewers, and Riot Games showed that they care about the welfare of their customers.
Deloitte recently joined forces with the International Olympic Committee in an effort to recognize and award those federations, athletes, and National Olympic Committees with highly effective plans for reducing their carbon footprint and creating a more sustainable future. This collaboration is significant as it provides a platform for celebrating groundbreaking changemakers, as well as offering others an incentive and model to follow.
3. Take advantage of open-source collaborations
All who have had experience with competitive team sports can appreciate that all team members play a crucial role in achieving a win. Effective partnerships require more than just one person to succeed. The most successful collaborations include exchanging of info, resources, best practices, and feedback with all the parties involved. Sports journalists can take a page out of this book and form collaborations that promote transparency and accountability, then persuade others to do the same. Working with others helps you achieve more than you can as an individual.
The sports media business has raised billions of dollars to support worthy causes and as sports journalists, it's important to give back to the community, motivate the youth, and help create a better tomorrow.
Conclusion
Sports media's presence and pervasiveness in our society gives it the power to make lasting changes in our world. Pursuing a career in sports media might be your next step to creating a healthier, more inspired, and more unified community.