The Top Starters at Red Lobster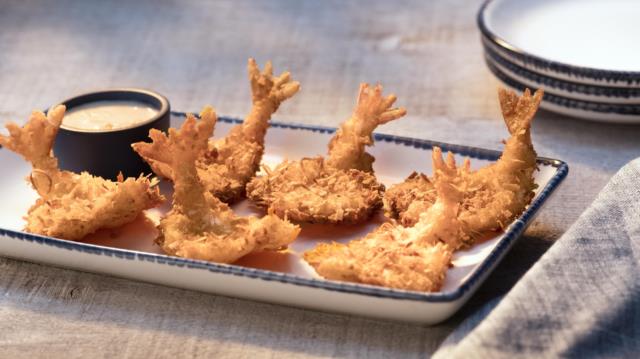 An appetizer, as any eager self-appointed foodie will tell you, is a small dish that you start your meal with. Its main job is to get you to relax, and to stimulate your appetite for the main course.
So, what's the best starter at Red Lobster? For many Red Lobster fans, the best starter is, of course, the Cheddar Bay Biscuits. But we've excluded that from our list, simply because it's too obvious. Besides, some people don't really consider it a starter and treat it more like a side dish, or even as dessert. Heck, you can visit Red Lobster for just these biscuits.
In any case, if you're not sure what to order as your appetizer once you get to Red Lobster, here are some suggestions from plenty of Red Lobster fans:
Mozzarella Cheesesticks
You can get your order of mozzarella cheesesticks for $8.51, and lots of people think that it's money well-spent. In fact, in a survey of hundreds of Red Lobster fans, the mozzarella cheesesticks garnered the most votes for the best appetizer.
How cheese can be the most popular appetizer in a place that specializes in seafood may seem surprising, but it makes some sense when you think about it. After all, you're probably getting lots of seafood for your main dishes. That's especially true with the options like the Ultimate Feast, which offers up many types of seafood altogether. At least with the cheese, you don't get seafood-sick.
Also, mozzarella remains one of the more popular cheeses in America. Some even consider it as the most popular cheese in the US. Once you get a taste of the mozzarella cheesesticks dipped in marinara sauce, you tend to understand why it's hard to beat the taste of this Southern Italian cheese that's been breaded and fried.
Hand-Breaded Calamari
This gets you a nicely large bowl of calamari, fried to a delectable light golden brown. It's then topped with banana peppers and served with marinara sauce.
It's a classic, although it did disappear for a while a few years ago. But then there may have been a bit of an outcry about that, as the calamari reappeared by November of 2020.
Just share this among your friends, and don't hog it all by yourself. It's meant to be shared, since it comes with almost a thousand calories and about 3,410mg of sodium. You're risking both obesity and hypertension if you eat this alone on a regular basis.
Langostino Lobster-Artichoke-and-Seafood Dip
This is served with tortilla chips and the house-made pico de gallo, but of course the dip is the main star of the show. This dip is served in a casserole-style dish, with langostino and Norway lobster, seafood, artichokes, and spinach drenched in a melted blend of 3 cheeses.
Is it decadent? Sure. But is it yummy? That's affirmative as well. It's a great option when you're really in the mood for seafood, as you can then follow this up with other seafood options.
With the artichokes, you get that slight earthiness that makes this somewhat more sophisticated than your usual cheese dip. The combination of the langostino and lobster also adds to the flavor and bulk, so you don't need to look for meat chunks in the pool of cheese. The 3-cheese blend is also great.
All in all, there's a nice flavor depth here (with some umami) along with a decent amount of langostino and lobster.
Also, the dip makes for an excellent pairing with the legendary Cheddar Bay Biscuits. Once you run out of the tortilla chips, then just dip the biscuits in here and enjoy. And it also gives you a good reason to order an extra basket of the biscuits as well.
Of course, this is also meant to be shared. Enjoy this with 2 of your friends, and you limit the intake to fewer than 400 calories and about 760mg of sodium. But if you just get this for yourself, you multiply all these numbers by 3, giving you 1,190 calories and 2,160mg of sodium.
Signature Jumbo Shrimp Cocktail
This comes in a cocktail glass filled with crushed ice, and then you have half a dozen shrimp hanging from the sides of the glass. In the center, you have the classic cocktail sauce for dipping.
Yes, the presentation is great. It's not that bad for your health, either, since it only comes with 130 calories. It's a great option for the shrimp fanatics, with bite-sized portions just waiting for you to enjoy.
Bacon-Wrapped Sea Scallops
Yep, it's another piece of evidence proving the truism that most food becomes better when you add bacon. Just try it, enjoy it, and then take note if it—you'll want to order this again on your next visit!