Top 5 Collaboration Tools for Remote Teams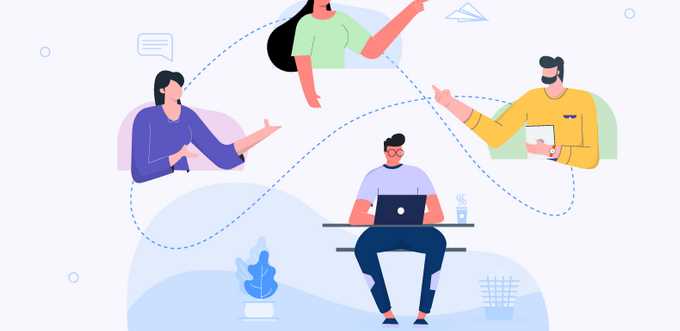 According to Global Workplace Analytics, up to 30% of the US workforce will still work from home at least some of the time during 2021.
That means we'll still need remote work management tools for many months to come. Foremost of these are those that allow us to interact closely with our fellow workers even when we're apart.
Find out more about collaboration tools for remote teams and how to manage remote workers by using them.
Why We Need Collaboration Tools for Remote Teams
Although each team member can work independently and communicate only via traditional means like phone and email, these are no substitutes for dedicated online collaboration tools.
These helpful apps can help connect teams regardless of their work setup or location. According to setapp.com, you won't even experience problems screen sharing between Mac and Windows-based computers.
These innovative tools for remote workers, help teams accomplish the following:
Share designs and documents easily in one place
Reach out for help with screen sharing
Contact team members on one platform
Check on project progress quickly, without calling or emailing
Ensure clients receive prompt responses to queries or orders
When you have a single communication tool, you needn't worry about remote workers missing important messages or being unable to access documents. You can pin important documents, like style guides, to these platforms so everyone can access them easily when needed.
These are some of the best collaboration tools available at the moment:
Cloud Storage and Sharing
Cloud-storage makes it easy to access shared documents without going back into your email to search for them. You can create various folders for different types of files or projects and manage who has access to them.
Most of these platforms allow you to grant view-only or edit access as required, and you can also set up version control enabling you to go back to the original version if needed.
That way, you can enjoy real-time collaboration without the worry of overwriting important information.
You can use cloud-sharing for the following:
Allowing editor access for written work
Sharing large complex spreadsheets
Keeping style guides, logos, and standard artwork together
The best cloud-sharing apps include Dropbox, Google Drive, and One Drive.
Project Management Platforms
Project management platforms take most of the guesswork out of managing remote teams. They help you assist remote workers to manage their deadlines using structured procedures.
You can assign deadlines to individual tasks, add comments, and mark items as complete. The platforms allow you to manage an entire project at a glance from one dashboard highlighting all the relevant tasks and sub-tasks involved.
They're an excellent tool for ensuring that everyone knows when they need to complete their tasks and stay on track with the progress of the project.
Some of these platforms let you customize your workflow to suit unique tasks or situations, too.
The most popular project management tools include Wrike, GamePlan, and Active Colab.
Messaging Apps
Messaging apps allow for instant messaging between colleagues without resorting to tedious emails or telephone calls. Instant messaging applications work well when it comes to sharing tips for remote workers, asking quick general questions, or general chit-chat.
These casual chats throughout the day help alleviate the loneliness of remote work, help foster a good team spirit, and cut down on idle banter during work meetings.
You can use messaging apps for things like:
General questions like, 'what time is the Zoom meeting?'
Team bonding and social chatting
Asking for help with a simple task
Checking if someone's free to chat more fully about an issue
These apps instantly gain the attention of the recipient by popping up on their screen, but they can also mute them when they want to concentrate on something else.
Skype, Slack, and Flock are some of the messaging apps that work well for remote teams.
Video Meeting Tools
Who will ever forget the era of Zoom meetings? While teleconferences offered an early way to host meetings remotely, they're a poor substitute for the face-to-face interactions we're used to in an office environment.
A shortage of in-person interactions is one of the biggest drawbacks of remote teams. Video conferencing makes up for this by allowing screen sharing, updates, and social interactions.
You can edit your work while you're talking and share your progress on important projects with more than one person at a time.
Nothing is more time-consuming than the backward and forward involved when many people offer input on a project. With video meetings, you can thrash out all your ideas in one place and reach a mutual agreement much faster.
Some uses for these tools include:
Company-wide or departmental meetings
One-on-one interactions between staff and management
Remote social gathering for team bonding activities like after-work drinks
Conferences
Client meetings with your teams
Some of the best ones include Microsoft Teams, Google Meet, and, of course, Zoom.
Design Tools
File sharing works well for text-based aspects, but what about more creative tasks? Collaborative design tools, like Figma, Vectorly, and InVision allow for all the following interactive work:
Two or more designers working on one project
Using pre-existing libraries to share templates or images
Editing work in real-time, rather than taking notes for later
You can use these tools across a wide range of collaborative projects like UX design, interactive marketing pages, and wireframing.
Is Remote Work the Right Choice for Your Business?
Collaboration tools for remote teams help streamline the process of managing remote teams, so you can make the most of work-from-home efforts.
In many cases, remote work is a cheaper and more effective option for businesses that saves you all the expenses related to running a brick-and-mortar office.
It's not appropriate for every industry though, so consider your aims and operations carefully before you opt for remote work as a permanent solution.
Browse our blog for more information about the pros and cons of most things.