When Do You Need to Get a Quitclaim Deed?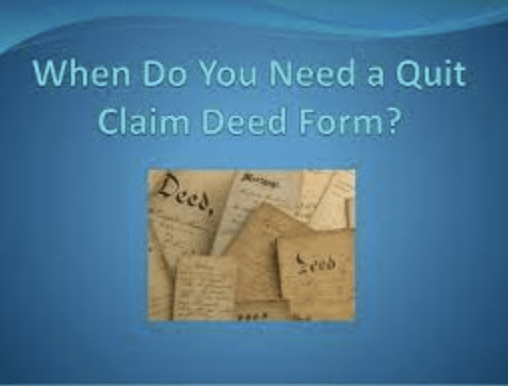 You may already know about deeds as documents that account for claims to property. Understanding a bit more about the purpose of deeds as well as the specific types of deeds available can help you select the best one for your situation.
The Fundamentals Behind Deeds
Specifically, a deed is a legal document that formally transfers ownership of property from a previous owner to a new owner, or from a "grantor" to a "grantee." The reason behind this document is to get ahead of any potential disputes that may ensue, and protect both parties. Deeds outline all the necessary terms behind this transfer in ownership; as long as they were filled out properly, they tend to be hard to dispute. A deed is proof of ownership of a title.
The overall structure of a deed includes a few key parts that may vary in their scope across different types of deeds, but are present in all deeds.
Parties

– There is a section that names the parties involved and describes the property in question;

Habendum

– This clause may exist if there are any limitations to the granting of property;

Reddendum

– Here the guarantor may retain a portion of interest in the property;

Warranties

– In the United States, the specific language used here tends to vary by state, but this is where the terms by which the title is validated as well as where any protections in place for the guarantee are named;

Execution

– This is where the signatures of the guarantor(s) and guarantee(s) go.
Property deeds may be public or private. Public deeds are the result of formal legal proceedings, and so they tend to be used in situations such as the passage of property in a trust. The majority of deeds are private. However, there are other ways to classify deeds, such as by the extent of protection they offer the grantor or grantee.
One of the most useful—and misunderstood—deeds is the quitclaim deed.
What Is The Purpose of a
Quitclaim Deed
?
Like all other deeds, quitclaim deeds are documents certifying the transfer of property ownership from one party to another—but with less guarantee protection than other deeds. This is because quitclaim deeds offer no warranty in the event that the guarantor's claim of ownership is not valid. Considering the parts of a deed named earlier, the "warranties" section in a quitclaim deed is light or even altogether nonexistent.
The most common cases for the use of a quitclaim deed are in situations where there is no money being exchanged, and where the two parties involved know each other very well.
One common situation where you may choose to use a quitclaim deed is if you are transferring property to another family member. If parents are giving property to one of their children, they may use a quitclaim deed to do this. If someone is giving their siblings or their partner some property, they may use a quitclaim deed to fulfill this.
Quitclaim deeds may be used in divorce proceedings to quickly transfer property between the two divorcing parties. The divorce settlement names which parties receive property (if applicable), and so the change in title may be accomplished using a quitclaim deed.
In all of these instances named, there is no need to add on grantor protection as part of the deed because the two parties know who owned the property, and there is also no money being transferred. Even in the case of a divorce, if needed there could be recourse if the guarantor does not comply with the terms of the settlement, and so there is no need to add on additional warranty protection—it would simply be redundant.
Quitclaim deeds may also be used to clear up any errors in previous title claims. The example most commonly cited on this is where there was a misspelling on the warranty deed; a quitclaim deed can include the correct grantee name spelling to make this error right. Another example is where a previous grantor's spouse may have an interest in a property because other deeds were not property executed. In this instance, a quitclaim deed may be requested in order to close out any remaining interest from that spouse.
Leverage Quitclaim Deeds to Meet Your Property Transfer Needs
Quitclaim deeds can be extremely useful ways to bypass formalities in the transfer of property, which may be advisable in particular situations. If the guarantor or guarantee is someone you know and trust, there may be no need for setting detailed warranties and so a quitclaim deed may do the trick. In the event of a correction, such as of a name in a deed, a quitclaim deed can successfully transfer the property and correct the misnomer. That said, it is always advisable to consult directly with a real estate attorney for their professional opinion, as there may always be language that is appropriate to your situation or other factors for you to take into consideration—and with which they can help.