10 Family-Friendly 4-Star Orlando Resorts!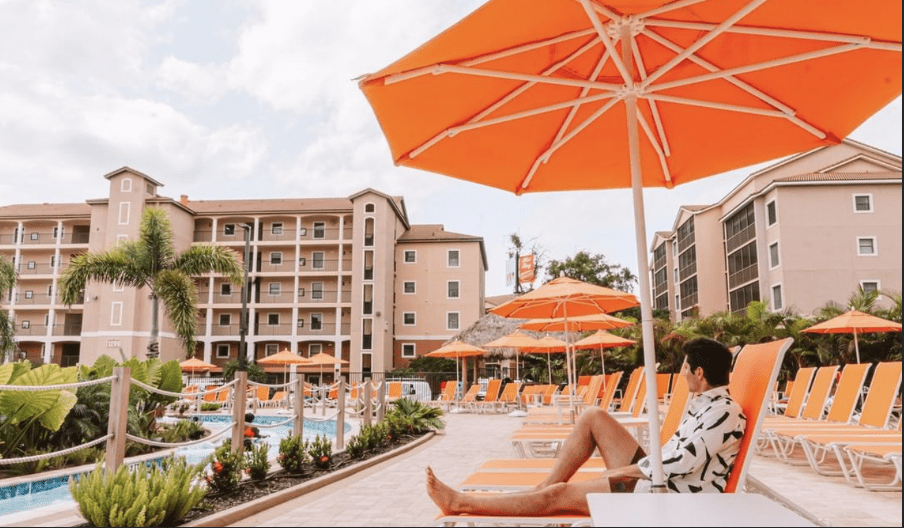 4-star resorts offer all the amenities and luxury without blowing out your budget like a 5-star resort would. They are perfect for families that want to splurge a little but still need to keep an eye on their budget. The best part is that they actually offer you a way to save if you plan properly.
When you plan a family vacation to Orlando, going to Disney World or Universal Studios is non-negotiable. You may even be begged and pleaded to go to Epcot, SeaWorld, and LEGOLAND as well. Between all the theme parks in the area, you are spoiled for choice, but that doesn't mean that you need to spend each and every day out.
By choosing a luxury 4-star resort for your family, you can plan a few downtime days by the pool or in the spa and stretch out your holiday further. The best part is that most of these resorts even feature their own waterpark, so rather than spend time at the waterparks at Disney World or Universal Studios, you can cool down right at your own resort's spa and waterpark.
These great resorts are family-friendly, come with 4-star luxuries, and are just waiting for you to call in and book.
1.    Westgate Lakes Resort & Spa
One of the five Westgate resorts in the area, this resort offers comfortable, affordable accommodation and even features an on-site waterpark.
When you looking into one of these, you get comfortable accommodation perfectly suited to you and your family's needs. Westgate Lakes Resort & Spa offers everything your family will need to enjoy the ultimate trip to Orlando. Not only are there 7 outdoor heated pools, 7 kiddy pools, and 6 hot tubs to enjoy, but there is also the Treasure Cove Water Park that you and your kids can use to your heart's content.
While you are poolside, have a drink or a bite to eat at the Citrus Breeze Tiki Bar & Grille or the Coral Reef Pool Bar.
The resort offers both rooms and suites, so it doesn't matter how large your family is. There is the perfect accommodation option for your family.
2.    Signia Hilton Bonnet Creek
This resort pool is rated #1 on TripAdvisor and is a 4-star resort with pools that cater to all ages.
This resort is perfect for those who are looking for a family-friendly resort that offers great activities and things to do for all ages. With a zero-entry or beach-entry pool, waterslides, arts and crafts activities, a lazy river, and other various activities, the whole family will be kept entertained or relaxed – whichever you are going for!
You can even bring your own floaties and pool games, or alternatively, you can buy them from the shop and keep them as a souvenir for your trip.
3.    Floridays Resort Orlando
This family resort has everything from a water playscape to a splash pad to relaxing jacuzzies and even a sandy beach on-site.
 Floridays Resort Orlando is one of the best value-for-money resorts out there and offers so much for families. Choose from 2 and 3-bedroom suites to suit your family size and take advantage of all the fun things to do right at your hotel.
The 2-bedroom suite sleeps up to six (when you use the sofa bed) and has a full kitchen so that you can save by preparing your own simple meals right in your suite. The 3-bedroom suite can sleep up to 8 people, and on top of the kitchen, you will also have a dining room, living room, a washing and drying machine, and even your own private balcony.
4.    Universal's Loews Portofino Bay Hotel
This resort offers stunning views of both the bay and of the garden nearby.
Universal's Loews Portofino Bay Hotel is a luxury 4-star resort that emulates the stunning town of Portofino in Italy. It wraps around a beautiful bay and offers stunning views inside and out. As it is located so close to Universal Studios, it is perfect for those who want to spend most if not the majority of their time at Universal.
With a spa, a sauna, a steam room, and of course, a pool, you can cycle through and enjoy utter relaxation. This resort is ideal for those with older kids, teenagers, and even family get-togethers where the children are already in adulthood.
5.    Renaissance Orlando at SeaWorld
Renaissance Orlando is a 4-star SeaWorld resort that is perfectly positioned between SeaWorld, Aquatica, and Discovery Cove.
Renaissance Orlando is a SeaWorld-based resort that offers great luxury amenities and is perfect for those focussing on the lesser-traveled to destinations. Not only is there an outdoor pool with comfortable lounge chairs meant for all-day relaxation, you will also have access to a state-of-the-art gym and a variety of fantastic restaurants.
The resort also features a spa, so you can jump from one water-based retreat to the next and completely wind down after a big trip through Orlando. Alternatively, you can pick things up and sign up for a host of outdoor activities, including hiking and horseback riding.
6.    JW Marriott Orlando, Grande Lakes
This resort provides cozy accommodation, and most guests will even have a private balcony that offers panoramic views of the estate.
This 4-star JW Marriott Orlando can be found in Grande Lakes and offers posh rooms that have flat-screen televisions, coffee makers, and fresh and comfortable linens. Suites have their own minifridges and even a separate living room that has an optional pull-out sofa.
There are many great free things to do with your room rate. Take a fitness class, lounge by the pool, or try out the golf course. The resort has several restaurants, including an Italian restaurant, a sushi restaurant, a poolside bar and grill, and three cafes.
7.    Grand Bohemian Hotel Orlando
This 4-star resort is a work of art in and of itself and is located a short walk away from the Dr. Philips Center for the Performing Arts.
The Grand Bohemian Hotel Orlando may be further away from Walt Disney World (16.7 miles away, to be precise), but it is in the heart of the city and offers classically furnished rooms, marble bathrooms, and all the quality amenities you would expect from a renowned hotel.
Interested in something to eat? The Grand Bohemian has a stylish, delicious restaurant to try, as well as a piano lounge where you can drink and be serenaded with live music. During the day, use the fitness center, try out the rooftop pool, go to the on-site spa, or check out their modern art gallery that has 150 pieces of art.
Source: Instagram, posted on May 10, 2022, Hyatt Regency Orlando International Airport Hotel's Official Instagram
8.    Hyatt Regency Orlando International Airport Hotel
The Hyatt Regency is right near Universal Orlando Resort and offers a variety of dining options and top amenities for the family.
The Hyatt Regency Orlando International Airport Hotel can be perfect for international travelers coming into the area and are interested in an all-in-one 4-star resort that isn't far from where they want to be.
Families in particular love this resort because of the various water activities, including pool, slides, splash pads, and more.
9.    The Florida Hotel & Conference Center
This resort is set at the Florida Mall and is the perfect option for those in the area to shop as much as they are to visit the infamous theme parks.
 The Florida Hotel & Conference Center may be more geared towards shoppers and business travelers, but it can be the perfect choice for those with older children looking for an all-in-one destination that lets them shop while not being too far away from the fun and excitement of the theme parks themselves.
You will be close to Wald Disney World Resort, Disney Springs, and SeaWorld, and within the heart of the city, so you have limitless dining options.
10. Hilton Grand Vacations at Tuscany Village
The Hilton Grand Vacations at Tuscany Village is a 4-star resort that combines the fun of the waterfront with luxury amenities and design.
The Hilton Grand Vacations at Tuscany Village is another resort-inspired and modeled after Italy. Stay here, and you will be just 2.7 miles from Walt Disney World Resort and 9 miles from Universal Orlando Resort.
The resort offers 1 and 2-bedroom suites, 2 outdoor pools, a splash pool, a fitness center, and a game room. You will also have a variety of tasty eats on your doorstep to choose from.