Advantages and Disadvantages of VOIP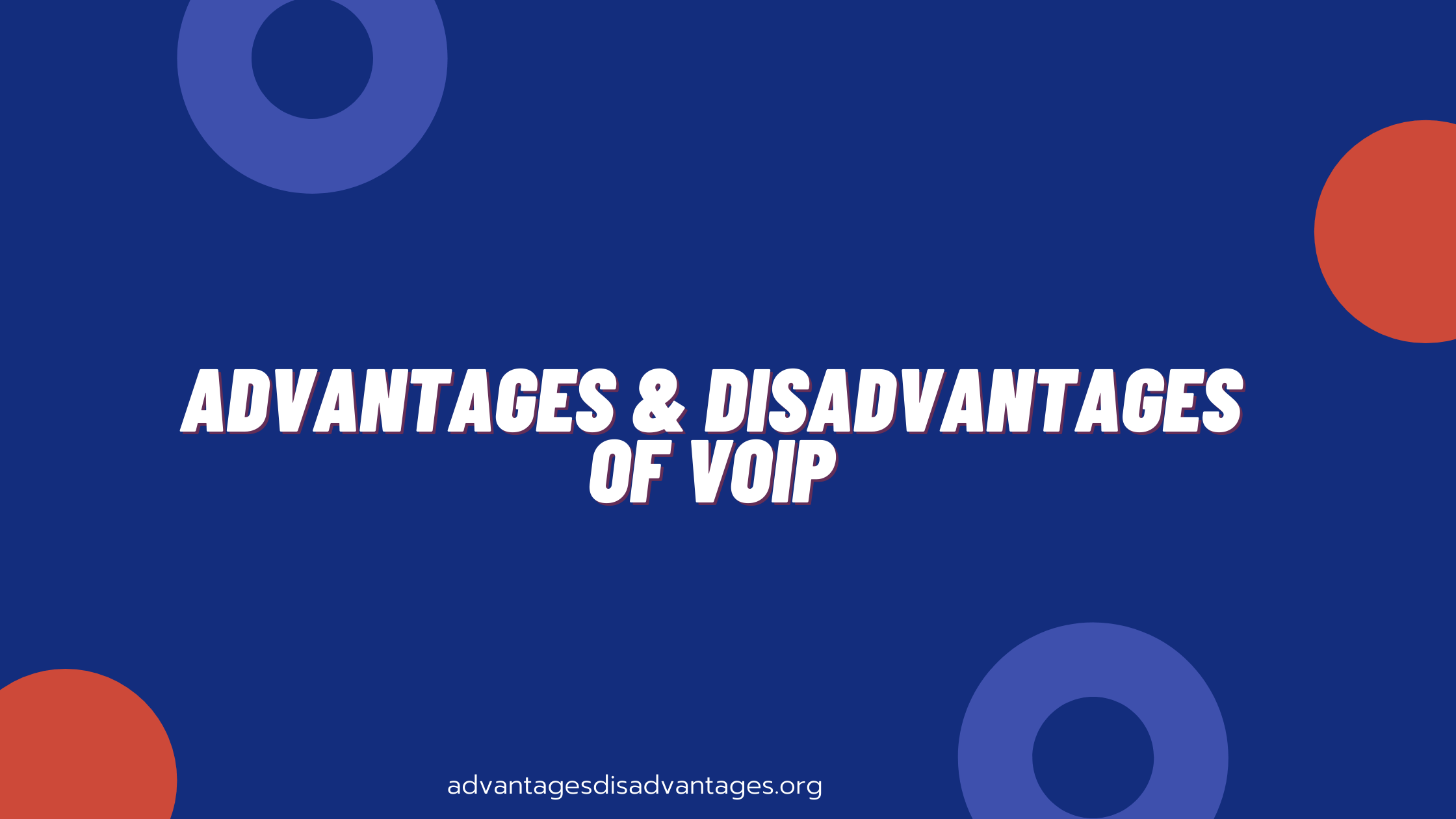 VoIP stands for Voice over Internet Protocol. It is a digital technology and often referred to as IP telephony or cloud-based telephony. VoIP is gradually replacing the traditional landline network and is becoming a popular alternative to cell phones. The technology works by converting analog voice signals into digital data signals and allows for a call to be made under any circumstances. You can call over the Internet to landlines, mobile phones, and even computer to computer worldwide where an internet facility is available. You can also make audio calls, video calls, instant messaging, and file sharing. We listed many Advantages and Disadvantages of VOIP.
How does VoIP work?
Internet Protocol is an essential building block of the Internet. IP telephony is a massive innovation from the century-old telecommunications system.
For phone calls, the analog signals are converted into digital signals using small data packets. The Internet can transmit these data packets around the world in less than a second. For IP telephony, these packets travel between your phone and a VoIP provider.
In four steps, here's how VoIP works.
Your phone connects to your switch or router in your Local Area Network (LAN).

When you dial a telephone number, your IP phone tells your VoIP service provider to call the other party.

Your VoIP service establishes the call and exchanges data packets from your IP phone.

Your VoIP phone converts these digital signals back into the analog signals you can hear.

VoIP bypasses the telecommunication companies. You can use VoIP anywhere if you have an internet connection. 
Advantages and Disadvantages of VOIP
Advantages of VoIP     
Voice over the Internet is a proven technology that lets anyone place a phone call. With broadband inclusion, VoIP has become a definite choice for phone services consumers and businesses alike.
New technology is always developed to erase drawbacks of previous ones, but somewhere it has its setbacks. Some advantages and disadvantages of VoIP technology includes:-
Voice Quality: When VoIP services first rolled around, one of its most significant disadvantages was its poor call standard. Now you have a fast and stable internet connection, and voice quality should not be an issue. The voice quality is excellent as compared to regular telephone calls.
Low-cost VoIP technology leads to greater financial savings. VoIP can offer a cheap and cost-efficient alternative to a regular phone contract. If you have an Internet connection, you can make phone calls all over the world for free. If you wish to make a computer-to-phone connection, there's usually a charge for this but probably much cheaper than your regular phone service.
Portability: 
VoIP isn't distance or area-dependent, implying that you'll have the option to take your VoIP telephone framework with you any place you go, giving that your device is configured to the workplace. Cloud-based communication is similarly just about as open as your email inbox; all you'll require is a viable device, a web association, and perhaps a headset. This implies that even representatives who work distantly can upkeep profitability levels, taking into consideration improved business productivity and adaptability.
Higher Scalability:
Scalability is one more of the numerous VoIP benefits that make it an appealing suggestion for developing organizations. This gives businesses the potential for high-quality, large-scale conference calls. Users can be easily added or remove to your network as and when required. 
Features:     
Dissimilar to standard telephone administration, which normally charges more for additional features, VOIP accompanies a large group of cutting-edge correspondence features. For instance, call forwarding, call waiting, voice mail, guest ID, and three-way calling are a portion of the numerous administrations included with VOIP telephone utility at no additional charge. You can likewise send information, for example, pictures and archives, simultaneously you are chatting on the telephone. 
VoIP telephones can coordinate with different administrations accessible over the Internet, including video discussion, message or information record trade in corresponding with the discussion, audio conferencing, managing address books, and passing data about whether others (for example, companions or partners) are accessible online to invested individuals. For a better understanding of VoIP you can access https://www.ringcentral.com/what-is-voip.html
Disadvantages of VOIP: 
Following are the disadvantages of VoIP service you need to be aware of:
Reliable Internet Connection Required:
Sufficient bandwidth is required for this technology. If your network's bandwidth is low, the service is bound to suffer.
Emergencies:
Due to loss of power during a crisis, you will not have the option to make a call using VoIP. It means businesses are often required to have a back-up landline telephone for emergency situations, as a local telephone exchange network is not affected by power outages. 
Latency
:
Internet-based technology can face issues other than speed, which are called jitter and latency. Problem with latency can affect the quality of calls made through the VoIP system. However, if you have a private internet connection, the quality of the call should not suffer.
Security:
Security is the main consideration with VoIP. Possible threats include identity and service theft, phishing, viruses, and malware, spamming over internet telephony, call tempering, and denial of service attacks.